by Lawrence G. Keane, Senior Vice President and General Counsel, National Shooting Sports Foundation
NEWTOWN, Conn – -(Ammoland.com)- The opinion piece from Dallas County Sheriff Lupe Valdez ("Our police officers need protection from gun violence too," Thehill.com May 17) was misleading and inaccurate in its description of firearms suppressors.
To begin with, suppressors are already legal to own and use in 42 states — and to hunt with in 40, including the sheriff's home state of Texas. There are more than 1.3 million suppressors owned by law abiding Americans and yet their use in crime is so low as to be nearly non-existent. This is because suppressors cost on average about $600 and add considerable length to a handgun, a characteristic making their use by criminals unlikely since concealability is difficult.
Curiously, to support her argument that suppressors represent a threat to law enforcement, she cites a rogue police officer who illegally possessed one in California.
There is nothing in the Hearing Protection Act that will "make it easier for dangerous people to obtain silencers."
The bill does not deregulate suppressors. It simply removes a layer of bureaucratic paperwork that does not advance public safety.
Suppressors would still be regulated under the Gun Control Act, meaning the purchaser has to undergo an FBI criminal background check. The bill does not change the law in the few states that still restrict access to this accessory. Its passage would free ATF resources to focus on pressing public safety issues such as putting more special agents in the field to help reduce violent crime.
Suppressors do not defeat the gunshot detection technology in use in many cities. Shot Spotter CEO Ralph Clark told The Washington Post his company's equipment detects suppressed gunfire and could be further refined to enhance this capability.
The sheriff ignores the many important benefits that come from using suppressors, including preventing hearing loss to target shooters; allowing clubs and shooting ranges to reduce the noise from their property, making them better neighbors; and helping hunters to protect their hearing while being able to listen to their surroundings. Only in America do suppressors have Hollywood's negative connotations. They are widely available in Europe and often required to be used for target shooting and hunting.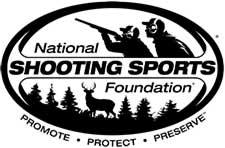 Making it less burdensome for law-abiding target shooters and hunters to acquire the means to protect their hearing will not increase crime or make law enforcement more difficult.
Sheriff Valdez should know better.
About NSSF  The National Shooting Sports Foundation is the trade association for the firearms industry. Its mission is to promote, protect and preserve hunting and the shooting sports. Formed in 1961, NSSF has a membership of more than 6,000 manufacturers, distributors, firearms retailers, shooting ranges, sportsmen's organizations and publishers. For more information, log on to www.nssf.org.