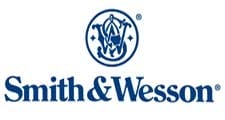 SPRINGFIELD, Mass. -(Ammoland.com)- Smith & Wesson Corp. today announced that it has presented Honored American Veterans Afield (HAVA) with a donation of $50,000 at the 2017 NRA Annual Meetings & Exhibits in Atlanta, Ga.
The donation by Smith & Wesson will help fund ongoing programs designed to support disabled veterans and wounded active duty military personnel. Matt Buckingham, President, Firearms Division, presented the donation to Tom Taylor, Chairman of HAVA, during a special ceremony at the Smith & Wesson booth on Saturday, April 29.
"As a founding member, Smith & Wesson has remained dedicated in its commitment to HAVA and the veterans it has served for a decade," said Taylor. "Through its donations and committed staff we have been able to reach thousands of men and women veterans from our Armed Forces to provide them with new programs and expand on existing programs."
Founded in 2007 by several companies in the shooting sports industry, HAVA has sponsored events in over 20 different states and has been able to heighten awareness of issues facing disabled veterans upon returning home. Donations from HAVA's co-sponsors are crucial to sustain the many hunting and shooting sports activities that it hosts each year.
Recently, a group of HAVA participants competed in the 2017 Smith & Wesson Factory Cup match and spent the day training with professional shooters Julie Golob and Jerry Miculek.
"We view it as a privilege and honor to be able to support these men and women who have made incredible sacrifices as they seek to reconnect with the shooting sports and transition to civilian life," said Julie Golob, professional shooter and US Army veteran.
Those who would like to continue on HAVA's mission, learn more about the organization and how to contribute or see photos from past events can visit their website.
About HAVA:
HAVA is a 501(c)3 organization formed by companies in the shooting and outdoor industry with the purpose of raising awareness and further assisting disabled veterans with their healing process through guided hunts, shooting events and other outdoor sports activities. The sustaining sponsor companies are Smith & Wesson, NSSF, Mossberg, Yamaha Outdoors, Crimson Trace, Leupold & Stevens, Surefire, Hornady, Ruger, XS Sights, Barrett, Sig Sauer and FMG Publications among numerous contributing companies.
Those who would like to learn more about the HAVA organization can do so on their website.
About Smith & Wesson:
Smith & Wesson Corp. is a U.S.-based leader in firearm manufacturing and design, delivering a broad portfolio of quality firearms, related products, and training to the U.S. consumer and law enforcement markets, as well as global military and law enforcement customers. The company's firearm division brands include Smith & Wesson, M&P, Performance Center and Thompson/Center Arms.
For more information on Smith & Wesson, call (800) 331-0852 or log on to their website.