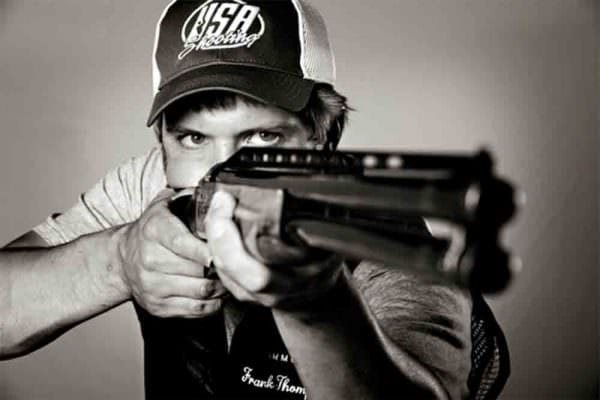 U.S.A. –-(Ammoland.com)- The road to Moscow and the 2017 International Shooting Sport Federation (ISSF) World Championships for Shotgun is set for stage two qualification at USA Shooting's Spring Selection Match that begins Tuesday with Skeet competition at the U.S. Army Marksmanship Unit (USAMU) in Fort Benning, Georgia.
This is the second of three stages of qualifying for the World Championships that will take place August 30-September 11 in Moscow, Russia. Qualification began last October with the Fall Selection Match in Kerrville, Texas and will conclude at the upcoming USA Shooting National Championships in July. Qualification for the World Championships includes four qualification rounds and four finals with the top-three cumulative scores punching their ticket to Moscow. Spring Selection competitors will test their skill on one of the world's toughest ranges for one course of fire and one final.
Currently, the tightest race going is in Men's Skeet with 11 athletes within 10 targets of frontrunners Dustan Taylor (USAMU/Carey, North Carolina) and Kyle Johnson (Phoenix, Arizona). Two-time Olympian Frank Thompson (Alliance, Nebraska) is three targets back but is brimming with confidence after picking up his first World Cup medal back in late March. Another five athletes, including national champion Phillip Jungman (USAMU/Caldwell, Texas), sit just five targets out. Not one athlete competing made both Finals during Fall Selection.
In Women's Skeet, Caitlin Connor (Winnfield, Louisiana) was the top qualifier and finished first in both Finals during Fall Selection to earn a 3.5-point advantage coming into this match. The Louisiana native has been on her game already in 2017, earning a silver medal at World Cup Acapulco and finishing fourth in the season opening World Cup in India. She's trailed by Haley Dunn (Eddyville, Iowa) and six-time Olympic medalist Kim Rhode (El Monte, California).
Rhode has shown no signs of letting up since becoming just the second Olympian ever to earn six medals in six consecutive Olympic Games. Since her return from Rio, all she has was win the World Cup Final, win the first two World Cups in 2017 and finish second in the other.
Amber English (Colorado Springs, Colorado) enlisted in the Army earlier this year and is currently in officer training, making her unavailable for this event. Katie Jacob (Rochester, Michigan), Samantha Simonton (Gainesville, Georgia) and Dania Vizzi (Odessa, Florida) are all within nine points of Connor.
There will be a lot of interest in the Men's Trap event given the influx of shooting talent that has arrived given the distinct possibility of Double Trap's elimination from the Olympic program. That means Double Trap stalwarts like five-time Olympian and 2008 Olympic gold medalist Glenn Eller (USAMU/Katy, Texas), two-time Olympian Josh Richmond (USAMU/Hillsgrove, Pennsylvania), and 2008 Olympian Jeff Holguin (USAMU/Yorba Linda, California) are competing in a new game. Eller and Holguin did not shoot Fall Selection in this event, thus they won't be eligible for World Championship contention, but should be a factor at Nationals and other subsequent events moving forward. Having shot Fall Selection, Richmond is 11-targets back of second place currently.
Two other transfers, Derek Haldeman (USAMU/Sunbury, Ohio) and Dale Royer (Jackson, Montana), also shot Fall Selection and are in contention. The head of the class appears to be Jake Wallace (Castaic, California), the current world-record holder in the event. He amassed a 15-point advantage in Kerrville and won both Finals, whereas no other competitor even made both Finals. No other top finisher from Fall Selection will enjoy such a comfortable margin heading into Fort Benning. Wallace started the season by winning the Qatar Grand Prix. Sitting in second currently is Bradley Beckmann (Chesterfield, Missouri) with Roe Reynolds (Quitman, Arkansas) in third.
In Women's Trap, Ashley Carroll (Solvang, California) also has built up a pretty substantial lead, 10.5 points ahead of Kayle Browning Thomas (Wooster, Arkansas) with Cailtin Barney-Weinheimer (Ingram, Texas) in third. Carroll has a new boost of confidence having captured her first World Cup medal victory during the Acapulco World Cup in March. Three-time Olympian and two-time Olympic bronze medalist Corey Cogdell-Unrein (Eagle River, Alaska) and Aeriel Skinner (Jackson, California) are just 4.5 points back of Browning Thomas. Cogdell-Unrein is transitioning to a new shooting style and hasn't found the scores yet that she's accustomed to.
Current World Championship Selection Standings
Spring Selection Schedule:
Tuesday, May 23 – Women's Skeet Qualifying + Final / Men's Skeet (75 targets)
Wednesday, May 24 – Men's Skeet Qualifying (50 targets) + Final
Thursday, May 25 – Trap OTR
Friday, May 26 – Women's Trap Qualifying + Final/Men's Trap (75 targets)
Saturday, May 27 – Men's Trap Qualifying (50 targets) + Final
About USA Shooting:
USA Shooting, a 501c3 non-profit corporation, was chartered by the United States Olympic Committee as the National Governing Body for the sport of shooting in April 1995. USA Shooting's mission is to prepare American athletes to win Olympic medals, promote the shooting sports throughout the U.S. and govern the conduct of international shooting in the country.
Check us out on the web and on Twitter.