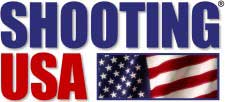 Nashville, TN -(AmmoLand.com)-  It's drag racing with guns! Draw and shoot five steel targets for time. And it gets very fast when the top Pro Shooters step into the shooting box.  But Steel Shooting has also expanded to include rimfire pistols and rifles and that's made the sport a family-friendly experience. John Scoutten and Tony Pignato have the highlights, with shot-string timing, to the final round of the US Steel Nationals.
Plus, the Colt double action Frontier, which was more popular overseas in Her Majesty's military than on the Western Frontier. The Model of 1878 is now one of History's Guns.
And, Max Michel organizes a party in Las Vegas to teach shooting competition with world champions as trainers at the Pro Shooter Experience. Tune in to Outdoor Channel this week!
AIR TIMES BY TIME ZONE
Eastern Time: Tuesday 3:00 PM; Wednesday 9:30PM, 1:00 AM
Central Time: Tuesday 2:00 PM; Wednesday 8:30 PM, Midnight
Mountain Time: Tuesday 1:00 PM; Wednesday 7:30 PM, 11:00 PM
Pacific Time: Tuesday Noon; Wednesday 6:30 PM, 10:00 PM
Shooting USA is listed as a one-hour show in your cable menu.
Watch Shooting USA on YouTube!
Subscribe to the Shooting USA YouTube Channel to watch this week's episode on Thursday!
The Travel Schedule This Week
John and I and the rest of our team return to Grand Island, Nebraska to cover Hornady's Pandemic in the Heartland Multi-Gun Match where, once again, it will require three guns to stop the zombie threats! Stay tuned for the action!
Be sure to "Like" Shooting USA on Facebook, and "follow" us on Instagram too.
About Shooting USA:
Jim Scoutten, AmericaÌs Most Watched Firearms Reporter, has been on the beat for 25 years, reporting the stories of the Shooting Sports and the firearms Industry. The show produces a series of popular segments focusing on historical guns, the personalities in the sport and industry, insider reports from gun tests, and practical tips from shooting sports pros. The show appeals to shooting sports enthusiasts of all ages and skill levels by providing practical tips on safely handling, modifying and repairing their favorite guns.
For more information, please visit www.ShootingUSA.com.