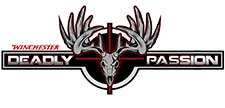 MINNETONKA, MN; (Ammoland.Com) — Ask anyone where is the best place to find black bears and most will say "Alaska," which is why Melissa Bachman of Winchester Deadly Passion is back for a fourth time…except this journey is with her best hunting buddy – her dad. Tune in for an all-new episode of Winchester Deadly Passion on Sportsman Channel Sundays at 11:30 a.m. ET.
Watch a sneak peek at thesportsmanchannel.com/shows/winchester-deadly-passion  
"My mom and dad brought us up to Alaska halibut fishing when my brother and I were little – so I was happy to return the favor. We are hunting on Prince of Wales Island where I don't think the bears can get any bigger!" said Bachman, host.
The crew head out for the first spot and stalk with Melissa's dad, Dale, up first. After belly crawling to a big boar foraging on a grass flat, Dale has his sights set in – except the bear lies down! With the tide about ready to leave their boat high and dry, they need this bear to get up for a good, clean shot.
Melissa was up next for her hunt and the her guide, Jason Boyer, brought her to where she found her very first bear all those year's ago. This time they came up empty-handed, but it was Friday, the 13th after all. Not one to readily give in, Melissa and crew headed out to that same location the following day and were rewarded with a big bruin in the clearing! Tune in to see what happens next and how big Melissa's bear truly is on this exclusive episode airing on Sportsman Channel.
"Hunting with friends and family is more important than the species or location. But I certainly hit a trifecta with this trip to have my dad – and my hunting partner, Porkchop, with me. You'll see more of her on future episodes of Winchester Deadly Passion – we have a great season lined up!" exclaimed Bachman.
Learn more about Winchester Deadly Passion at MelissaBachman.Com on Instagram at Instagram.com/Melissa_Bachman and Facebook.Com/WinchesterDeadlyPassion
About Winchester Deadly Passion: Every good hunter needs a solid role model, and Melissa Bachman, host of Winchester Deadly Passion, fits that bill perfectly with a unique ability to share her love for hunting with passionate fans and viewers. Winchester Deadly Passion is 26 weeks of non-stop action and pure entertainment as Melissa travels the globe going head-to-head with everything from world-class red stag and thousand pound gators to Boone and Crocket whitetails and thunderous bull elk. With rifle, bow or shotgun in hand, Melissa's fast-paced, in-the-moment hunting style will keep you on the edge of your seat, while her expertise and decades of experience give viewers useful tips and strategies they can use afield.
About Winchester Ammunition
A world leader in delivering innovative products, Winchester is The American Legend, a brand built on integrity, hard work and a deep focus on its loyal customers. Learn more about the history of Winchester by visiting ‪Winchester.com or connect with us on Facebook at ‪Facebook.com/WinchesterOfficial.