by David Tong
The Benelli B-80 Semi-Automatic pistol was a unique design that can be categorized today as a collector's item.
U.S.A. –-(Ammoland.com)- I must admit that I am a bit of a sucker for unique gun designs and mechanisms, so when I recently had the opportunity to fire one of these somewhat rare Benelli B80 pistols, I did not hesitate.
A good friend of mine had bought one long ago when they were new, and what I recalled about it was that it was fairly big and heavy for a pistol with a single-column eight-round magazine, and had a "Luger-like" rather sloped grip angle that was a bit off-putting. The B80 we are shooting today is a variant of the classic Benelli B76 handgun.
Fast forward nearly thirty years, and another example became available to actually shoot. This one was chambered in the 7.65X21mm cartridge, the original round Georg Luger created while he was a designer with Deutsches Waffen und Munitionsfabriken, Berlin for the Model 1900 Parabellum pistol that bears his name.
The operating mechanism of the Benelli B-80 pistol is a so-called "inertia" type, and it is described briefly and obliquely by U.S. Patent Number 3,893,369.
The action features a tilting bolt that is separate from the inside rear of the otherwise conventional looking slide. The bolt has angled locking lugs on its lower rear. When the bolt is in battery and ready to fire, the rear of the bolt is tilted downward by a pivoting link. The link looks much like a rectangle with cylindrical legs machined onto it and fits perpendicular to the movement of the slide.
When the pistol recoils, this link retains the bolt in its locked position for a short time, but then allows the bolt to raise from its locking surfaces to allow the slide to recoil. While Benelli did state that this was an inertia type recoil, it is my view that this is quite similar to the way the Belgian FN-FAL bolt operates and could be considered a "short-recoil" system but dissimilar to the much more prevalent tilting barrel "Browning" system.
The bolt houses the firing pin and the top mounted extractor, and all the parts, its retention plate that slides into the rear grooves of the slide much the same as a 1911 firing pin stop (but also includes a pair of spring-loaded serrated arms to secure it from vertical displacement during function), as well as the fixed but removable barrel, are all machined from stock and industrial white matte hard chrome plating is applied.
The slide appears to be a machined forging, finished in a satin blue, while the receiver is a stamping, welded together in left/right halves. The receiver has vertical grasping grooves on the front and rear straps and is finished in matte blue.
In keeping with its different operating system, the Benelli B-80 Semi-Automatic magazine catch is a serrated sliding part that you push forward for releasing the empty magazine but otherwise functions normally when replacing a loaded magazine into the well. Grips are checked walnut panels.
The magazine is of matte blue finished sheet metal with large plastic dished buttons that allow your thumb and forefinger to push downward while loading the rounds in. This is similar to the single checkered right side button of the Luger pistol, but much less cumbersome to use. Care must still be taken into load the long 7.65 Para cartridges lest they tip in that very slanted magazine. (I will always prefer the more vertical orientation of the 1911 grip angle for ease of use)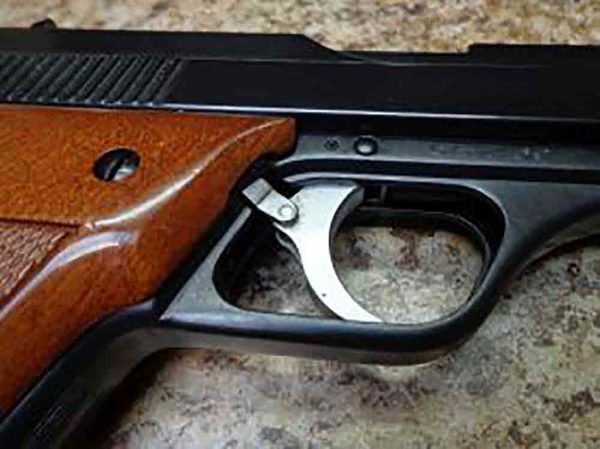 The Benelli B-80 is a double- and single- action pistol, and it also offers the ability to engage the vertical travel thumb safety lever for Condition One carry. The pistol's trigger pulls in single action was a smoothly creepy 5.75lbs by my calibrated index finger.
The B80 pistol carried a screw and click adjustable rear sight. This is mounted wholly above the slide, which means the corresponding "shark fin" front sight is quite tall. The front sight has a vertical trough with factory-applied white paint for contrast.
I ran three magazines through the pistol hand-held at approximately twenty yards with my friend's handloaded ammunition using hard cast lead bullets in Starline cases. I obtained 2-3" groups at this range firing from a two-handed Weaver stance. I consider the recoil level to be mild, as one might expect with an 85gr bullet traveling about 1,200fps. Even so, I did notice that the muzzle rise made bringing that tall front sight back down a bit slower than it would with a 1911, a Hi-Power, or similar other Browning style autos, though the ejected cases did land in a pretty tight cluster about 8-9' to my right in about an 18" circle.
Benelli states that limp-wristing might cause functioning problems, but the owner of the pistol stated that he had shot it in the past while doing so and has never experienced a tie-up.
The Benelli B-80 Semi-Automatic Pistol is an interesting and pleasant pistol to shoot. It should properly be considered to be something for a collector or for very occasional recreation though, because evidently there are few if any spare parts available, as it was not a commercial success.