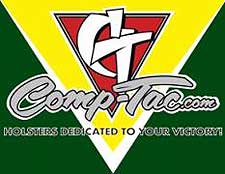 Houston, TX –-(Ammoland.com)- Comp-Tac's most versatile holster comes in a new color – but more about that later.
This unique, low-friction, pancake-style Kydex holster can be worn inside or outside the waistband. It comes standard with three sets of incredibly strong nylon belt clips that fit belts up to 1.5 inches wide (optional clips may be ordered for 1.75-inch belts).
For inside-the-waistband concealed carry (CC), simply slide the clips over the belt, even if the belt is threaded through the loops. For outside-the-waistband CC, simply thread the belt through the clip loops. The offset loops allow you to adjust the holster camber as much as one-half inch away from the body for a more efficient fit and faster draw.
Additional key features are ride depth adjustability to get the best draw/wear height fit. The Flatline's tilt angle is also adjustable, from near straight up to 15 degrees forward. Uniquely for a pancake holster, the Flatline has a retention adjustment that allows you to set the firmness of firearm retention/draw. Designed for self-defense, the Flatline can also fill the competition needs for most shooters.
As with all Comp-Tac holsters, an actual, real pistol is used in manufacturing to ensure that the fit is dead on.
Colors: Black, Red, Blue, Forest Green and, new for 2017, Dark Tan (as shown).
MSRP: $69.99
About Comp-Tac Victory Gear, LLC:
Comp-Tac Victory Gear, LLC combines experience in personal protection and the tactical applications combined with the love of pistol shooting competitions into every product they develop. Comp-Tac strives to deliver high value, quality solutions and improvements at the best price. With satisfaction a top priority, we ensure speed, quality and superior customer service to support your desire to take responsibility for personal safety, security and recreational firearm use.