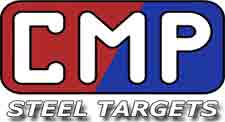 Weldon Spring, MO –-(Ammoland.com)- Custom Metal Products today announced the newest release of their growing product line, the X-Ring Plate Rack Target.
The X-Ring Plate Rack features an innovative reactive X-Ring inside the standard 8" plate target.
Shoot the center of the target and only the 4" X-Ring will fall. If you miss the X-Ring and hit the 8" outer plate, both targets will fall. Fine tune your plate rack skills with this challenging target.
The X-Ring Plate Rack will be introduced at the NRA Bianchi Cup competition May 24-27, 2017. All competitors are invited to shoot the X-Ring Plate Rack at the event.
The targets are made from 3/8" AR500 hardened steel for long life with pistol or rifle shooting.
The X-Ring Plate Rack is available with manual reset, or fully automatic pneumatic reset with competition controller.
Overall size: 123 w x 46 dp x 56 h
Shipping weight: 600 lbs
Pricing and Availability
The X-Ring Plate Rack is available now at www.custommetalprod.com. The price is set at $2500 for the manual reset unit, and $5000 for the fully automatic unit.
About Custom Metal Products
Custom Metal Products is a full line manufacturer of AR500 hardened steel shooting targets for competition, recreational, law enforcement and military use. Our products include IDPA/IPSC, Dueling Trees, Gongs, Swingers, Hostage, Sniper, and Cowboy Action Targets. See all of our product details, including videos on our online store at www.CustomMetalProd.com