By Major Van Harl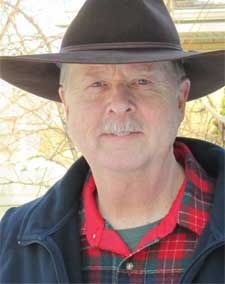 Wisconsin –-(Ammoland.com)- Have you seen the internet wireless commercial where the group of guys are headed down to the basement, to the man-cave with plans on watching the big game?
As they descend down into their world of manliness the wives have already got there. No watching the game in the man-cave so the next best thing is to take the wireless lap top computer and head out to the backyard to the she-shed.
She-sheds are the small cottage-like structures that moms have built in the backyard. It is their sanctuary from the rest of the world and in many cases from the rest of the family. You can go into mom's she-shed but only if you are invited.
The Colonel (my wife) wanted a she-shed and that is what I had built for her. It is however not in the backyard of our city home, it was positioned next to a stream on our farm in western Wisconsin. It is built on stilts since it is in a wet area of the farm but it is also the structure that is closest to the outhouse on our farm.
Since it is on the banks of a small stream I started calling it the Boat House. If you stand in the middle of our stream and start walking and then swimming you will eventually get to New Orleans. You cannot even float down stream on an inner tube on my land because the stream is rather narrow, so there are no real boats at the Boat House.
The Boat House has a deck that is 16 feet by 14 feet and the cottage is 10 feet by 12 feet. There are sliding class patio doors on two sides to let in the sun and provide great views looking down stream and up on the hill of our farm. It has power so the Colonel has lights, music and heat on chilly days.
She-sheds are a private space for crafts and relaxing, so the Colonel can work on her rug braiding. She won a blue ribbon first place prize at the Wisconsin State fair a few years back for her work on a rug. Jigsaw puzzles get assembled and card games get played in the Boat House as well.
Memorial Day weekend found extended family out at the farm and lots of card games were played.
Bob Levy of Levy Construction ( [email protected] ) was the contractor who built our pole barn at the farm and later built our $2,000 outhouse. So, of course Bob had to build the Boat House. It is brown with a green roof and trim like the other buildings.
When I first met Bob and was talking with him, the subject of shooting and firearms came up. He mentioned he had a Henry Repeating Arms lever action 22lr rifle that his wife had coveted. Mrs. Levy is a farm wife and knows what a rifle is for and how to shoot one.
So now I have a building contractor who owns Henry rifles and the Colonel and I own Henry rifles and Henry rifles are made in Wisconsin. With that in mind I starting calling the Colonel's Boat House the Henry Boat House.
The Henry Boat House, built by a Henry owner for a Henry owner, and built in Wisconsin or not built at all.
The Henry Boat House has an "L" shaped deck that is on two sides of the structure. With lots of open space and a hill in the background to stop bullets going down range, the deck is an excellent place to shoot from even in the rain.
Of course I make sure I pick up the brass before I am reminded to by the Colonel. After all, it is her Henry Boat House not my deer stand.
Wait a minute, a deer stand? Now there is a concept.
Let's see, it is elevated, it has a solid deck to stand on for safety, it has a rail to rest your rifle on and it has heat if you get too cold during Wisconsin's November deer season. And of course the outhouse is only a few feet away. A she-shed deer blind, I bet you will not see one of those on an internet TV commercial, even though we can get internet inside the Henry Boat House.
I have to keep reminding myself that the Henry Boat House is not mine, that it is the Colonel's and I need to back off with the suggestions of manly outdoor items to place inside. We are adding Henry memorabilia along with nice curtains, mirrors and other female mandated items.
The Henry Boat House is for fun in our retirement years but it is also practical. In an emergency people can shelter in the Henry Boat House. Put the cards away, set up the army cots and folding chairs and safely function in a less stable time. A steel sided building, no matter how small beats a tent in a crisis any day to take refuge in.
We will have a lot a fun with the Henry Boat House. There will be improvements and updates as we go along but the main structure and concept of usage is already there.
I have had only two missions in life since we retired. One was to get the daughter through under-graduate school and she is now graduated. The second mission, and a much longer endeavor, is to keep the Colonel happy.
We truly love being out at the farm in western Wisconsin. People drive across the country to come to the drift-less area of western Wisconsin on vacation. Hunters and motorcycle riders fill the woods and the roads to enjoy the hills of our part of God's country. When we are out there I get to remind myself I own a little piece of this wonderful location.
Now we own a Henry Boat House.
The Henry Boat House, built by a Henry owner for a Henry owner, and built in Wisconsin or not built at all.
Major Van Harl USAF Ret /[email protected]
About Major Van Harl USAF Ret.:Major Van E. Harl USAF Ret., a career Police Officer in the U.S. Air Force was born in Burlington, Iowa, USA, in 1955. He was the Deputy Chief of police at two Air Force Bases and the Commander of Law Enforcement Operations at another. He is a graduate of the U.S. Army Infantry School.  A retired Colorado Ranger and currently is an Auxiliary Police Officer with the Cudahy PD in Milwaukee County, WI.  His efforts now are directed at church campus safely and security training.  He believes "evil hates organization."  [email protected]