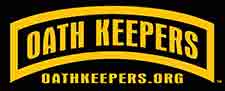 U.S.A. –-(Ammoland.com)- Please join us on the evening of June 24th as we honor some of our fellow citizens, who at one or more times in their lives, have taken an Oath to support and defend the Constitution of the United States. By their individual actions, our award winners have lived up to their Oaths to protect and defend our Liberty, Freedoms and unalienable rights given to us by God, which are also enumerated in the U.S. Constitution. This is Our Time to Stand Up and be counted! This is Our Time to protect and defend the Constitution of the United States and this is Our Time to acknowledge and honor the actions of those who are fighting the good fight to reclaim our precious Liberty in America, including New York State.
The New York Oath Keepers will be hosting our THIRD ANNUAL AWARDS DINNER this year in order to honor defenders of the U.S. and NYS Constitutions.
DATE: June 24, 2017
PLACE: ALBANY MARRIOTT, 189 Wolf Road, Albany, NY 12205
TIME: 6:00pm Reception – 7:00pm Dinner
COST: $75.00 per Person
KEYNOTE SPEAKER: STEWART RHODES
NOTE: TICKETS ARE AVAILABLE NOW – CLICK HERE FOR MORE INFO ABOUT THE DINNER OR TO PURCHASE TICKETS
EAGLE AWARD
Given to individuals who have given decades of their lives to protecting and defending the U.S. Constitution and the New York State Constitution.
Award Recipient: KRISANNE HALL
KrisAnne Hall is a disabled veteran of the U.S. Army, a Russian linguist, a mother, a pastor's wife and a patriot. She now travels the country teaching the Constitution and the history that gave us our founding documents 265 days a year and does so at her own expense. KrisAnne is an attorney and former prosecutor, who was fired after refusing to follow her employers order to stop teaching the Constitution to TEA Party groups – she would not sacrifice liberty for a paycheck. Her passion and enthusiasm is contagious and she is able to inspire any group. She is a steadfast warrior in the Liberty movement. KrisAnne has provided many years of dedicated service to protecting and defending the United States Constitution, and for that reason, New York State Oath Keepers is proud to honor her with its 2017 Eagle Award.
LEADERSHIP AWARD
Given to individuals who, by their demonstrated leadership abilities in the Constitutional and Liberty movement, have been able to inspire and organize their fellow citizens to protect and defend the U.S. Constitution against attacks by the state and federal governments.
Award Recipient: PALOMA CAPANNA
Paloma Capanna is an Attorney and Policy Analyst who handles civil rights cases involving the Second Amendment in federal and state courts. Her cases often involve the Second Amendment at the intersection of privacy, due process, equal protection, property, and freedoms of speech and religion. She has been the leader in the fight against the New York Safe Act and views the Second Amendment as the modern civil rights movement.as a unique combination of expertise, perfectly suited for law and public policy analysis. Paloma is also the architect of the "Civil Rights Restoration Act," a new bill that was recently introduced in the NYS Assembly and Senate. The bill is supported by the newly-formed chapter of Gun Owners of America – New York as well as the New York Oath Keepers and it is designed to secure equal rights and privileges for gun owners in New York that are enjoyed by everyone else.
NEW YORK CONSTITUTIONAL SHERIFF AWARD
Given to a New York State Sheriff who understands the grave implications of our eroding Constitutional protections under both our federal and state governments, including fighting against Second Amendment attacks under the New York Safe Act and fighting the designation of organizations like the New York Oath Keepers as right wing extremists simply because they oppose unconstitutional laws and acts by the federal and state governments.
Award Recipient: SHERIFF GREGORY R. SEELEY
Sheriff Gregory R. Seeley is a lifelong resident of Greene County and joined the Greene County Sheriff's Office in 1984. Beginning his career as a deputy, he advanced through civil service testing to the rank of sergeant and later to the rank of lieutenant. He is the first deputy in Greene County history to work his way through the ranks to sheriff. Sheriff Seeley has been a strong supporter of the New York Oath Keepers since we were formed in 2009. He is an unwavering and vocal proponent of the Second Amendment who stands behind every American's right to bear arms. Seeley has stated, many times, publicly that he stands with the people and will do everything in his power to uphold their constitutional rights. Sheriff Seeley said that as Sheriff he represents all the people in Greene County and he has taken an oath to uphold the Constitution of the United States and the Constitution of the State of New York, and he will continue to protect the rights of all citizens, including those rights guaranteed by those constitutions.
KARL MARX AWARD
Given to an individual who by his or her actions has done more to destroy the unalienable rights of the people, divide America by class and race, to destroy the constitutional limits on government as outlined in the U.S. Constitution, while at the same time implementing many of tenets of the 'Communist Manifesto' (as written by Karl Marx and Frederich Engels) into our Republic.
Award Recipient – TO BE ANNOUNCED AT THE DINNER!
NOTE: There are a couple of real good candidates for this award at the State and Federal level in 2017, but the recipient's identity will be kept a secret until the night of the dinner.
OathKeepers NY AwardsDinner 2017 by AmmoLand Shooting Sports News on Scribd
NOTE: At 2:00PM on the day of the dinner, our founder Stewart Rhodes will hold a special meeting at 2:00pm at the Marriott Albany Hotel with 'Oath Keeper Members only' from Massachusetts, Rhode Island, Connecticut, New Jersey, New York and Vermont.
About Oath Keepers:
Oath Keepers is a non-partisan association of current and formerly serving military, reserves, National Guard, veterans, Peace Officers, and Fire Fighters who will fulfill the Oath we swore, with the support of like minded citizens who take an Oath to stand with us, to support and defend the Constitution against all enemies, foreign and domestic, so help us God. Our Oath is to the Constitution.
For more information, visit: www.oathkeepers.org.