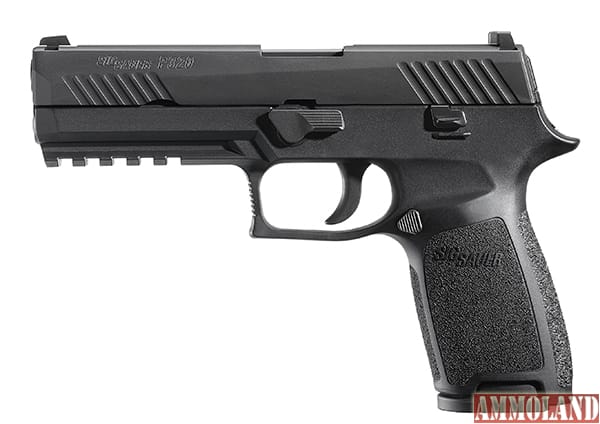 Newington, N.H. –-(Ammoland.com)- SIG SAUER, Inc., The Complete Systems Provider, is proud to announce the selection of the striker-fired P320 as the sidearm of choice for the North Dakota Highway Patrol (NDHP).
The NDHP was organized in 1935 with just five patrolmen. Their duty was to enforce state laws pertaining to the protection and use of highways in North Dakota, the 19th largest state with the highest number of roads per capita.
Today, the NDHP boasts over 150 sworn officers who are assigned a wide array of tasks, ranging from driver examinations to protecting the northern border. Before selecting the SIG P320 in 9mm, the NDHP utilized P226 pistols chambered in .357 SIG.
"The North Dakota Highway Patrol looks forward to the transition to the SIG SAUER P320," said Captain Thomas Iverson. "After a thorough testing process, we are confident the new weapon will serve our agency well."
Since its introduction in January 2014, the revolutionary P320 has gained tremendous momentum in the firearm world. Earlier this year, the U.S. Army selected a variant of the P320 as its next service pistol. With unprecedented modularity and a clean, crisp trigger pull, the P320 sets a new standard for striker-fired performance. The serialized trigger group is interchangeable, allowing the shooter to transform the size and caliber of the pistol. Full size, Carry, Compact and Subcompact frames are available. Grip frames are further divided into small, medium and large to accommodate any hand size.
"From scorching summers to brutal winters, the North Dakota Highway Patrol works in some of the country's most extreme weather. We are honored that the agency continues to trust the reliability of the SIG SAUER firearms in this harsh environment," said Tom Jankiewicz, Executive Vice President, Law Enforcement Sales. "We have a long history of providing only the best firearms for law enforcement use, and we are humbled that officers trust their lives to our products."
For more information on the complete SIG SAUER line, please visit us at sigsauer.com
Follow SIG SAUER on social media, including Facebook at facebook.com/sigsauerinc, Instagram at https://www.instagram.com/sigsauerinc/, and YouTube at youtube.com/user/sigsauerinc.
About SIG SAUER, Inc.
SIG SAUER, Inc. is The Complete Systems Provider, leading the industry in American innovation, ingenuity, and manufacturing. SIG SAUER brings a dedication to superior quality, ultimate reliability, and unmatched performance that has made it the brand of choice among many of the world's elite military, government and law enforcement units as well as responsible citizens. SIG SAUER offers a full array of products to meet any mission parameter, including handguns, rifles, ammunition, electro-optics, suppressors, ASP (Advanced Sport Pellet) airguns and training. The largest member of a worldwide business group of firearms manufacturers that includes SIG SAUER GmbH & Co. KG in Germany and Swiss Arms AG in Switzerland, SIG SAUER is an ISO 9001: 2008 certified company with more than 1,600 employees. For more information on SIG SAUER, any of its products, or the SIG SAUER AcademySM, please visit on to sigsauer.com