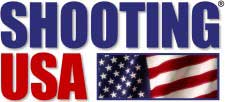 Nashville, TN -(AmmoLand.com)- It's happening again! Zombies are invading Nebraska! It's Hornady's Pandemic in the Heartland that's become a tradition in five years of competition and weekend fun. The run-and-gun multi-gun match continues to grow in popularity, as competitors, like Jerry Miculek continue to defeat those zombie targets.
Plus, the Les Baer Custom Ladies Pistol Team celebrates 20 years of shooting competition at the National Matches at Camp Perry.
And, the 10-millimeter cartridge makes a comeback! The Colt Delta Elite returns to the market with a few key upgrades. Tune in to Outdoor Channel this week!
AIR TIMES BY TIME ZONE
Eastern Time: Tuesday 3:00 PM; Wednesday 9:30PM, 1:00 AM
Central Time: Tuesday 2:00 PM; Wednesday 8:30 PM, Midnight
Mountain Time: Tuesday 1:00 PM; Wednesday 7:30 PM, 11:00 PM
Pacific Time: Tuesday Noon; Wednesday 6:30 PM, 10:00 PM
Shooting USA is listed as a one-hour show in your cable menu.
Watch Shooting USA on YouTube!
Subscribe to the Shooting USA YouTube Channel to watch this week's episode, Pro Tips, History's Guns, and more!
Be sure to "Like" Shooting USA on Facebook, and "follow" us on Instagram too.
About Shooting USA:
Jim Scoutten, AmericaÌs Most Watched Firearms Reporter, has been on the beat for 25 years, reporting the stories of the Shooting Sports and the firearms Industry. The show produces a series of popular segments focusing on historical guns, the personalities in the sport and industry, insider reports from gun tests, and practical tips from shooting sports pros. The show appeals to shooting sports enthusiasts of all ages and skill levels by providing practical tips on safely handling, modifying and repairing their favorite guns.
For more information, please visit www.ShootingUSA.com.