DELRAY BEACH, Fla. -(Ammoland.com)- Century Arms, North America's premier AK manufacturer, has announced the release of a 100 percent U.S. made version of the highly sought after Draco AK47 Pistol to meet rapidly increasing market demand.
"The Romanian Draco Pistol imports have been infrequent due to Military and Government contracts at the Cugir factory," said Jason Karvois, Century Arms Director of Sales. "Due to the popularity of the Draco pistol, and overwhelming demand, Century Arms has started to manufacture the Draco pistols at our Vermont factory to be able to consistently offer them to the U.S. market."
Based on the AK47 rifle design, the Draco pistol combines rifle-cartridge firepower in compact pistol-form. Chambered in the ever-popular 7.62x39mm cartridge, the Draco pistol features a 10.5" barrel and weighs 6.3 lbs., making it lightweight and handy in tight quarters.
The U.S. Draco comes standard with a maple wood handguard, standard AKM sights, readily accepts any AK47 magazine or drum, and best of all – is completely made in the U.S.A.!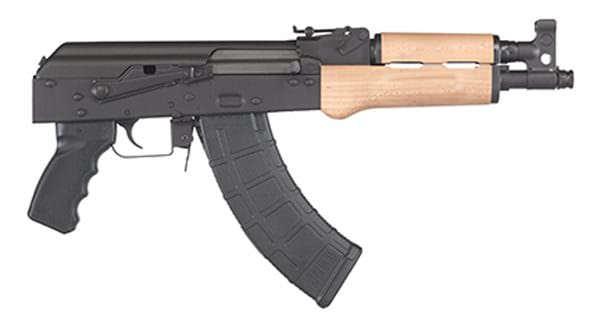 The Draco pistol is an extremely durable firearm that provides unmatched reliability in various conditions. A small package with rifle firepower, the Draco pistol provides the perfect choice for close-quarters confrontations, an ultimate truck gun, or just the perfect tool for maximum fun at the range.
The U.S. made Draco is now shipping to dealers across the country with a manufacturer's suggested retail price of $749.99.
For more information on the U.S. Draco pistol and other Century Arms AK-47 models, visit their website.
About Century Arms:
Born over 50 years ago with its roots in the surplus business, Century Arms has an extensive history of providing unique and affordable products to the American Collector, Hunter, and Target Shooter. That tradition is carried on today, with a state of the art manufacturing facility located in the U.S.A, as the company continues to offer unique, innovative, and quality products to the U.S. Consumer and U.S. Government.
For additional information on Century Arms, visit their website.