U.S.A. –-(Ammoland.com)- Preparing ammunition cases for reloading is time consuming, labor intensive and tedious. However, if it isn't done properly, your reloads will not be accurate, the cases may hang up in the chamber and you might damage your gun.
The essential steps in successful ammunition case preparation include (for non-target/competition loads) are:
Resizing the case
Trimming the case to length
Deburring the outside of the case mouth
Chamfering the inside of the case mouth
Cleaning/Uniforming the primer pocket
Resizing the case, either FL or Neck Sizing is easily accomplished with any good set of dies and press. However, case trimming is another matter.
You can spend anywhere from $70 for the basic Forster "Original" Case Trimmer to over $200 for a Lyman or RCBS electric trimmer. Deburring, chamfering and primer pocket tools run anywhere from $10 to $35 each, depending on brand and that is only for the hand tools.
If you want to save some time you can invest in a power drill or mini-lathe to mount these tools which makes the process go faster, but you still have to mount the tools separately for each step.
With all of the above said, your investment in case prep tools can range from $100 to over $400. That, of course, does not include the price of a good power drill or mini-lathe.
Our reasoning for providing a brief outline of the cost of case preparation is to illustrate that this new Frankford Arsenal device is a more affordable option. And, even if you have all of the above mentioned tools, which we do, it makes the task of case preparation a lot easier and less boring.
The machine comes with collets and bushings to trim cases from .17 Remington up to the .460 Weatherby. The Deburr, Chamfer and primer pocket tools screw into the front of the case for easy and continuous access.
Once the case holder is adjusted, simply insert brass into the case holder as a collet aligns the case squarely with the hi-speed cutter. As the case mouth contacts the cutter, it is trimmed until the case shoulder stops on an internal bushing. Remove the case, deburr the outside, chamfer the inside and clean out the primer pocket and you are done.
The only "drawback" that we could find was the slow constant speed of the motor. If you are used to using a high speed trimmers, drills or lathes, then the slower constant speed of this device could frustrate you. As such, you will find yourself wishing for a variable speed control to use for the different tasks.
However, before you decide that the slower speed is not for you, think back. How many cases have you ruined by using high speed motors and over-trimmed, put in too much chamfer or beveled the outside of the case mouth with your deburring tool? The constant speed of the Frankford Arsenal allows for precise preparation. The goal in reloading is not to see how fast we can do the job, but how well we can do the job.
This one tool will replace five separate reloading tools. It has a convenient storage compartment on top for all components that are not in use.
The specifications and features include:
Case Trim & Prep Center
Deburr Tool
Chamfer Tool
3 different sized Case Body Collets
6 different sized Case Shoulder Bushings
2 different sized Primer Pocket Cleaners
Patent Pending Case Holder Assembly allows for easy and repeatable trim-length adjustment for any length desired.
Patent Pending Universal Collet System works with shouldered cases from .17 Remington to .460 Weatherby.
Ultra-Hard, High Speed Steel Cutters stay sharp for thousands of rounds to make trimming quick and easy.
Unique Adjustable Collet and Bushing design indexes cases on the shoulder for speed and precision.
Adjustable stand and non-skid feet allow the unit to be operated in a variety of positions.
Outside Chamfer tool and Large and Small Primer Pocket Cleaning tools are included.
Makes Trimming and Chamfering Cases fast and easy with no need for shell holders.
Built-in storage box holds extra tools and keeps everything ready and organized.
VLD Chamfering tool makes loading easier and prevents damage to bullets.
3 Output shafts accept all case trimming accessories with 8-32 threads.
Aluminum and Steel construction for extreme durability and long life.
The only tools lacking with this system were primer pocket crimp cutters (removers). The increased popularity of military calibers, most of which use crimped primers, dictated that Frankford Arsenal make an expansion kit available. As such, if you are a reloader who "works" a lot of military brass, the F.A. Case Prep Expansion kit is an essential addition. It contains a large and small primer pocket crimp remover and a primer pocket uniformer/cleaner for large and small primers. With the addition of this kit, there is virtually no case prep job that can't be accomplished with the Frankford Arsenal Case Prep & Trim system.
The F.A. Case Prep & Trim system has an MSRP of $199.99, but you can usually find it online for under $175. The Case Prep Expansion Kit is $39.99 (again less online).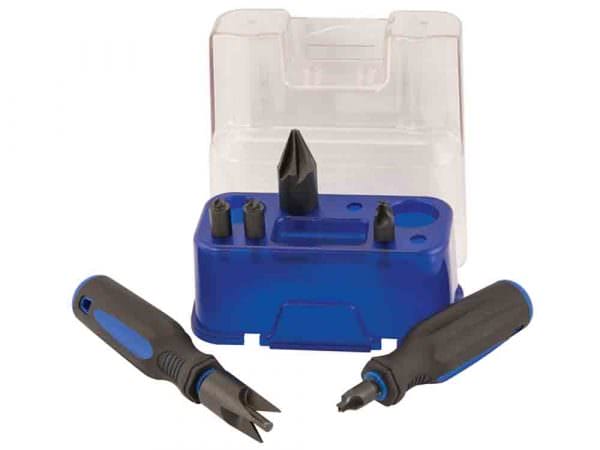 If you cannot afford the F.A. Case Prep & Trim system or do not reload enough brass to justify its cost, you are still faced with the problem of crimped primer pockets in "military brass". The folks at Frankford Arsenal did not forget you. They now offer a Case Prep Essentials Kit with the same tools as the Expansion Kit and a chamfering and deburring tool, but with handles for hand use. This is a must-have if you do much reloading. The Essential Kit has an MSRP of $59.99, but you can find it a bit lower online.
---
About Jim and Mary Clary:
Jim and Mary Clary have co-authored over three hundred and fifty articles, (and counting) on shooting and hunting. You can read many of them on AmmoLand News.