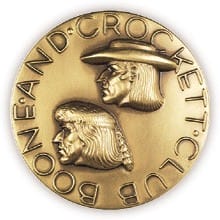 MISSOULA, Mont. –-(Ammoland.com)- American optics maker, Leupold & Stevens, has added its name to a growing list of supporters behind a new initiative led by the Boone and Crockett Club intended to highlight the core values of fair chase and strengthen the image of the North American hunter.
"Hunting is the oldest of all human activities, yet has apparently become the least understood," said CJ Buck, the Club's vice president of communications. "Today's hunter, especially our younger generation, are being exposed to a barrage of negativism, criticizing everything from our character and motivations to our commitments to the game animals and birds we hunt. It's time we as sportsmen remind ourselves of those things that make hunting relevant in modern times, so we can show others."
The Hunt Right: Hunt Fair Chase initiative will launch later this summer. Its purpose is to inspire sportsmen to unite behind an effort to improve their own public image and control of the narrative about hunting that others have taken.
"Somewhere along the way we stopped talking about our values and ethics: the adventure, experience and the life lessons learned through hunting," Buck explained. "We need to get back to that story, especially for our younger generation, and to be putting our best foot forward."
Theodore Roosevelt and the Boone and Crockett Club popularized the concept of fair chase at a time in history when the unregulated harvest of game was a significant factor in the extinction of some species and the near loss of others. Conservation was being promoted as the new model for the treatment of natural resources, to not only recover wildlife populations, but also to ensure they would never be threatened again.
Sportsmen of that era took it upon themselves to embrace conservation and aid in the recovery of the game they cherished. They also embraced a new code of conduct that spoke to their character and commitments.
Buck said, "Having a family-owned, American-made company like Leupold step up and support this effort speaks volumes about their own character and commitments. As a manufacturer, it's not always easy to invest in something that doesn't directly sell your products, but giving back to your passion and what you believe in is one of the special things about hunting."

"Leupold & Stevens is committed to the advancement of fair chase hunting, and there is no better partner to work with on that issue than the Boone and Crockett Club," said President and CEO Bruce Pettet. "The Club's championing of ethical hunting is legendary. As a company of hunters and shooters, their message is reflected in our actions daily here at our Oregon manufacturing facility."
The Hunt Fair Chase initiative will launch this August with an interactive website and social media effort.
To date Leupold & Stevens joins the National Shooting Sports Foundation, Buck Knives, YETI, the Wild Sheep Foundation, and Boyt Harness, as well as media partners The Outdoor Group, Bonnier, Sports Afield and many others in this effort.
About the Boone and Crockett Club
Founded by Theodore Roosevelt in 1887, the Boone and Crockett Club is the oldest conservation organization in North America and helped to establish the principles of wildlife and habitat conservation, hunter ethics, as well as many of the institutions, experts agencies, science and funding mechanisms for conservation. Member accomplishments include enlarging and protecting Yellowstone and establishing Glacier and Denali national parks, founding the U.S. Forest Service, National Park Service and National Wildlife Refuge System, fostering the Pittman-Robertson and Lacey Acts, creating the Federal Duck Stamp program, and developing the cornerstones of modern game laws. The Boone and Crockett Club is headquartered in Missoula, Montana. For details, visit www.boone-crockett.org.