USA -(Ammoland.com)- By fusing HID and LED technology, Lightforce Performance Lighting has developed the ultimate driving light with the HTX Hybrid.
This hybrid light combines 20 LEDs with 80 watts of output to provide an instant flood beam, with a 70 watt HID (high-intensity discharge) bulb within a 170 mm reflector for long distance viewing. Together the two systems provide 8,400 effective lumens of visibility for driving in all conditions.
"By combining HID and LED technology, we are able to provide a combined flood and long-distance light for drivers in a single, durable unit," said Tarnia Conti, Lightforce Chief Operating Officer. "This eliminates the need for additional light bars and spotlights beyond a single set of HTX Hybrids."
The HTX comes in a lightweight, fiberglass-reinforced nylon housing, with an extruded 6063 aluminum heat sink to make the LEDs run more efficiently. It is IP69k rated to keep out moisture and contaminants, and features a hard-coated, impact-resistant polycarbonate lens.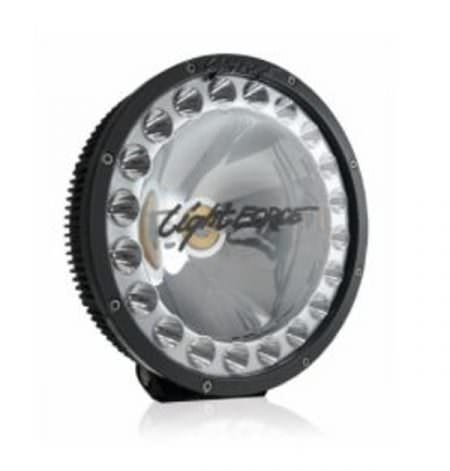 It also has a genuine Gore waterproof membrane, a high-current waterproof connector and thermal overload protection, as well as over, under and reverse voltage protection.
With three modes of operation (LED only, HID only and combo) and a five-year warranty, the Australian-made HTX Hybrid gives adventure drivers the ability to master the dark.
HTX Hybrid Specs:
LED power: 80W
HID power: 70W
Effective lumens: 8400
1768 metres (1934 yards) @ 1 LUX
Input voltage range: 10-16V DC
Current draw: 11Amps @ 13.2V
LED color temperature: 5000K
Matched HID color temperature
Input cable length: 17.71in (450mm)
Operating temperature: -40°F to 140°F
Weight including bracket: 5.07lbs (2.3kg)
Dimensions – 9 in (230mm) diameter, 4.37 in (111mm) depth, 9.65 in (245mm) height including reversible bracket
For more information, please visit their website or visit their Instagram page.
About Lightforce:
With more than 25 years experience, LIGHTFORCE is a global leader in portable professional lighting systems as well as driving lights, rifle-scope optics and lighting accessories. Unlike our competitors, we are pioneering the use of modern composite and eco-friendly materials. This not only gives us a clear competitive advantage, but has also earned us a number of prestigious Australian and international design awards. We continue to see growth in customer loyalty and confidence around the world.
For more information, please visit their website.