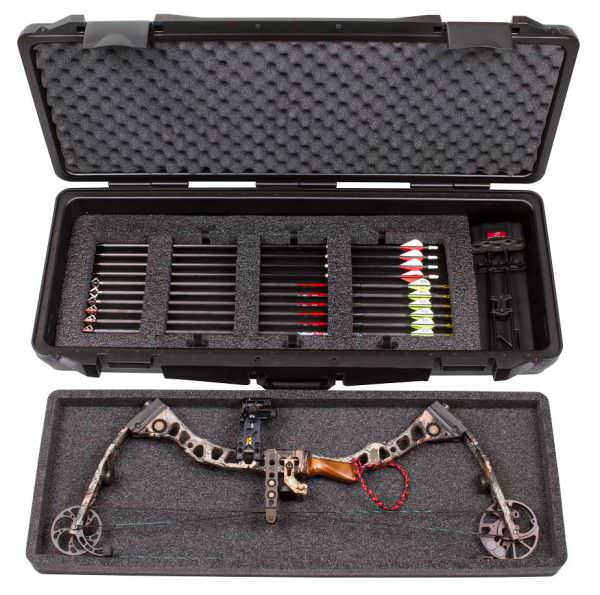 New Ulm, Minnesota –-(Ammoland.com)- Amtrak, which operates more than 300 trains daily across the United States, now allows passengers to transport archery equipment as checked baggage. Amtrak previously prohibited archery gear on its trains, but changed its policy thanks to advocacy by the Archery Trade Association, with support from U.S. Rep. Rob Woodall, R-Georgia, USA Archery and the National Field Archery Association.
This change gives America's estimated 23.8 million archers the opportunity to transport their bows and arrows via Amtrak while traveling to archery and bowhunting activities nationwide.
"This is a significant victory for bowhunters and archers, and a great example of how the ATA advocates for our manufacturing and retail members, and their customers," said Jay McAninch, ATA president/CEO. "Dan Forster on our team spearheaded this effort. This is a prime example of the initiatives ATA's director of government relations works on. We're grateful Amtrak reconsidered its policy, and excited that bowhunters and archers nationwide will be able to ride Amtrak for bowhunts, archery tournaments and vacations while enjoying these family activities."
The new policy, which took effect July 10 2017, specifies all archery equipment – such as bows, arrows and crossbows – must be transported as checked baggage in a hard- or soft-sided case. Amtrak does not require reservations for archery equipment, as it does for firearms. Bow cases cannot exceed 50 pounds or 75 linear inches. Amtrak does not limit the number of archery equipment cases, but because each case counts as one checked item, normal baggage limits apply. Customers are charged for excess items.
In leading the effort to change Amtrak's regulations, the ATA's Forster sought help from Congress while working with USA Archery and the National Field Archery Association to rally support. Amtrak was created by Congress as part of the Federal Railroad Administration, and is overseen by the House Committee on Transportation and Infrastructure as well as the Senate's Commerce Science and Transportation Committee.
Forster said Rep. Woodall – who represents Georgia's 7th Congressional District, and is a member of the House's Transportation Oversight Committee – was instrumental in amending Amtrak's policy.

"We're deeply grateful to Amtrak's team for their willingness to listen to our appeal, and especially to Congressman Woodall's office for advocating for this change," Forster said. "We're excited to see ATA members and Amtrak's millions of customers across the country taking advantage of this new avenue of transportation for their bowhunting and archery activities."

"Solving America's big challenges takes time, but we can make government work better for Georgia families one issue at a time every single day," said Rep. Rob Woodall.

"This is a great example of one of those opportunities to do better, and it was once again started by someone willing to pick up the phone and give me a call. We have dozens of ATA member companies and retailers in Georgia, not to mention nearly 24 million bowhunters and archers across the country, and I was happy to reach out to the folks at Amtrak. I'm glad to see they found a solution that works for everyone."
USA Archery welcomes the policy change. "From youth and collegiate archers to Olympic and Paralympic hopefuls, many of our members stand to benefit from Amtrak's new policy," said Denise Parker, CEO of USA Archery. "Families, clubs and teams can now consider Amtrak as a viable option for tournament travel."
Bruce Cull, president of the National Field Archery Association, agreed. "The NFAA hosts thousands of archers at events across the country, throughout the year," Cull said. "Many of them combine family vacations with the fun and camaraderie of archery competition, and they enjoy bowhunting when they aren't shooting arrows for score. We're pleased to see more transportation options available to our members."
Learn more about Amtrak's archery equipment policy here.
About the Archery Trade Association
The Archery Trade Association is the organization for manufacturers, retailers, distributors, sales representatives and others working in the archery and bowhunting industry. The ATA has served its members since 1953. It is dedicated to making the industry profitable by decreasing business overhead, reducing taxes and government regulation, and increasing participation in archery and bowhunting. The organization also owns and operates the ATA Trade Show, the archery and bowhunting industry's largest and longest-running trade show worldwide. For more information, like the ATA Trade Show on Facebook, follow @ATATradeShow on Twitter, or learn more about archery and bowhunting at Archery360.com and Bowhunting360.com.