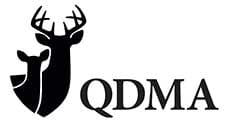 ATHENS, GA –-(Ammoland.com)- Don't let the Quality Deer Management Association's (QDMA) 2017 National Convention slip Bayou! Online registration for the event, which will take place July 20-23 in New Orleans, ends July 10 at midnight. After July 10, those wishing to attend must call QDMA headquarters at 800-209-3337 to register.
QDMA's 2017 National Convention will feature over 20 expert speakers and celebrities, with more educational opportunities than ever before! Seminar topics include rattling tips based on research, managing hunting pressure, food plot tips, designing the perfect small hunting area, the impact of social media on hunting, and more. Plus, Mark Kenyon will discuss do-it-yourself public-land adventures in a live recording of his popular Wired to Hunt podcast.
Evening events and activities for the whole family are included, along with raffles, games, live and silent auctions, and plenty of opportunities to explore the culture and cuisine of New Orleans. Win hunts, trips, gear and prizes worth over $200,000, including a dream hunt in Nebraska with Cuz Strickland of Mossy Oak, complete with camo, CVA muzzleloader and a Mossy Oak camera crew.
It all takes place at the New Orleans Marriott in conjunction with the Louisiana Sportsman Show at the Mercedes-Benz Superdome. The show will feature halls full of exhibitors, additional speakers and seminars, contests, activities, and much more.
This year's National Convention is sponsored by Bass Pro Shops, Cabela's, Yeti, QDMA's Louisiana State Branches, Hunter's Edge, Moultrie, Summit, Outdoor Underwriters, First South Farm Credit and Char-Broil. To register, visit our website at https://www.qdma.com/get-involved/national-convention/.
About QDMA
QDMA is dedicated to ensuring the future of white-tailed deer, wildlife habitat and our hunting heritage. Founded in 1988, QDMA is a national nonprofit wildlife conservation organization with more than 60,000 members in all 50 states and Canada. To learn more about QDMA and why it is the future of deer hunting, call 800-209-3337 or visit www.QDMA.com. QDMA can also be found on Facebook at www.facebook.com/TheQDMA, Twitter at www.twitter.com/TheQDMA, and Instagram at www.instagram.com/theqdma.