Mike Searson takes some test shots with the new Q Erector Silencer, and gives us his range report.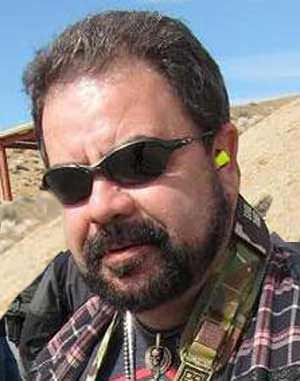 U.S.A. –-(Ammoland.com)- We were speaking with our friends at Silencer Shop about new designs and once again the incomparable silencers from Q came up.
They offered us an Q Erector Silencer. This is a modular piece that consists of a series of ten baffles, an end cap, a threaded portion and a stainless steel blast baffle.
Like the name implies it is reminiscent of the "Erector sets" that many of us played with as children and how that hobby made many an AR builder later in life.
AR rifle's, after all, are just Legos.
When I was a kid I used to love taking my toys apart. I was curious as to how things worked and why. Probably 90% of the time I could get them back together as they were designed. Sometimes I had semi-important looking parts left over.
Well, we got by without fidget spinners and we were thankful!
As I got older I did the same with bicycles, dirt bikes, lawn mowers, chainsaws, and go-karts. I even built a go-kart with an old chainsaw for the motor.
In my late teens, I did the same to cars, guns and still do to this day.
The Erector by Q filled this primal need I have always had for taking stuff apart and building them. It may not be the first modular silencer, but it is the first of its kind in the sense that you can truly tailor the suppressor's length for your personal use on your favorite rimfire pistol or rifle.
If you want a short semi hearing safe can, no problem. You still have the option another day, to run it fully assembled with all 10 baffles for maximum sound reduction.
Personally, we like the middle sized options with 5 to 7 baffles and this will allow any shooter easily find their own sweet spot of length and silence.
Q Erector Silencer The Good
Even if you couldn't care any less about the modularity, the erector is amazingly light at 2.6 ounces including the stainless steel blast chamber when completely assembled.
Once again, the key to maintaining accuracy with a silencer on a rifle is getting that weight down so it does not affect your barrel harmonics. It may be a non-issue with a 22, but we do not think that it can hurt.
Now let's talk about the modularity.
The ability to customize the length of a silencer is always a plus in our book. Sometimes you want maximum sound reduction and other times you can sacrifice down to a hearing safe level so as not to affect accuracy, concealment or overall length.
Having a sub 1″ diameter means that this can will line up with the contours of most 22 target rifle barrels and not look out of place.
Perhaps our favorite takeaway was the two baffle configuration on the rifle. We had adequate suppression of noise to a hearing safe level with the length of a muzzle brake while on a rifle.
Q Erector Silencer The Bad
To get at your desired length, you are going to need to assemble and disassemble where you shoot. We don't consider this a bad thing or think that you will lose parts, although if you are a total spaz in this regard, you might. So be sure to keep track of everything (yeah we can get a bit spazzy with small parts, still).
You will need to bring tools [or one good tool] with you to do this. To be 100% correct, you might want to bring a portable vice or mount a small vise on the top of an ammo can. Four 50-round boxes of 45 ACP in the can will give enough weight and stability to secure the spanner adapter and hold it all still. Use a Channel Lock, adjustable wrench or a Vise Grips to move the other spanner when you need to tighten and loosen.
If you say no to the Vise there is always the option of bringing an extra set of slip joints, channel locks, Vise Grips etc. Just be mindful of having to torque it all down and take care not to break the blue spanners.
It is probably due to the light weight of the baffles, but we were always thinking that we were going to break something whenever we made our adjustments. We would caution you to check that you do not cross thread a baffle, either.
Q Erector Silencer The Reality
Running the Erector on a semi auto Walther PPK/s in 22lr was definitely quieter with more baffles attached. This has to do with the size of the pistol's barrel, the action of the slide and it being a blowback pistol. Still it was not bad to our ears at all.
Mounting up on a rifle, in our case the Savage we found it comfortable all the way down to the two-baffle configuration. Then again, you have most of the burn contained in that 16" barrel and a nice sealed bolt action that is quiet to begin with, plus the noise being further from your ears.
We did detect a bit of first round pop more often than not, but this may have had more to do with tearing it down and rebuilding it as well as trying it on different firearms. It was not noticeably louder, but it was there.
While I probably wouldn't recommend this as a "First Silencer"; if you are in the market for a versatile rim fire can that works well on a rifle when it is the size of a flash suppressor and you can dial it up to make it even quieter with a few turns of a wrench, this might be the one you are looking for.
We hope it is a sign of more things to come and we would rather see grown men taking silencers apart than playing with fidget spinners.
The Q Erector Silencer should be in stock at Silencer Shop and other distributors by the time you read this.
Q Erector Silencer Specs:
Caliber: 22 long rifle, 22 WMR, 17 HMR
Mount: 1/2-28"
Weight: 2.6 oz.
Length: 7.6"
Diameter: 0 .99″
About Mike Searson
Mike Searson's career as a shooter began as a Marine Rifleman at age 17. He has worked in the firearms industry his entire adult life as a Gunsmith, Ballistician, Consultant, Salesman, Author and was first certified to teach firearms safety in 1989.
Mike has written over 2000 articles for a number of magazines, websites and newsletters including Blade, RECOIL, OFF-GRID, Tactical Officer, SWAT, Tactical World, Gun Digest, Examiner.com and the US Concealed Carry Association as well as AmmoLand Shooting Sports News.
Home page: www.mikesearson.com
FB: www.facebook.com/mike.searson
TWITTER: www.twitter.com/mikesearson