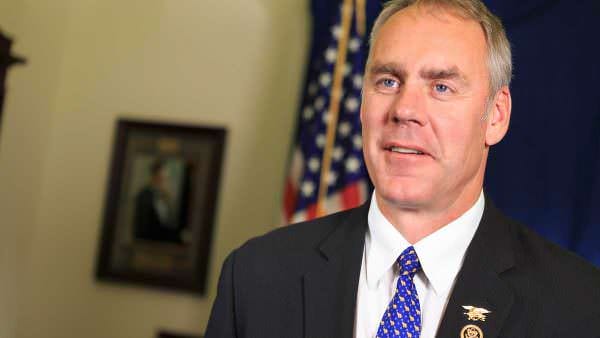 WASHINGTON, D.C. -(Ammoland.com)- Interior Secretary Ryan Zinke and other senior federal officials met with representatives of the outdoor recreation industry, including Archery Trade Association President and CEO Jay McAninch, at the U.S. Department of the Interior to discuss how the use of public-private partnerships can help improve visitor experiences on America's public lands and waters.
"One of my top priorities is to expand recreational access to public lands and waters. Today I'm excited to announce that, for the first time, the Department of the Interior will host a recreation advisory committee dedicated to looking at public-private partnerships across all public lands, with the goal of expanding access to and improving the infrastructure on public lands," said Secretary Zinke. "We already have thousands of private partners who operate on federal lands. Whether it's the iconic Jammers in Glacier National Park, the historic El Tovar lodge at the Grand Canyon, or the kayaks that you can rent on the Potomac River, American workers are at the heart of helping American families experience our great outdoors."
"The ATA is pleased that Secretary Zinke is moving quickly to implement public-private partnerships as a mechanism to maximize outdoor recreation on public lands," McAninch said. "The public-private formula will ensure the public's right to access to enjoy the great outdoors while providing the funding that will not only provide excellent recreational opportunities but also cover the critical infrastructure needs that have so often been ignored when support comes only from Federal budgets."
Thom Dammrich, President of the National Marine Manufacturers Association and a leader of the Outdoor Recreation Industry Roundtable (ORIR) began the meeting by introducing almost 30 offers of private investment on public lands totaling more than $80 million, calling them "just the first wave of thousands more opportunities that will emerge over the next few months."
National Park Hospitality Association (NPHA) President Terry MacRae outlined 19 proposed projects in national parks alone. These projects will help improve visitor experiences by modernizing accommodations, expanding connectivity, improving campgrounds, adding new services and more.
"The ATA is excited to work with staff of the U.S. Fish and Wildlife Service and Bureau of Land Management to use public-private partnerships to implement Secretary Zinke's Order No. 3347," McAninch said. "The order seeks to expand access for recreational hunting and fishing on public lands, and members of our industry are poised and ready to invest in making sure that happens. We are also pleased to hear that Secretary Zinke is directing Interior staff to coordinate closely with the state fish and wildlife agencies in prioritizing access for hunters and anglers. Bowhunters count on the states for scientific management of all wildlife, and having the states play a prominent role on Federal lands is long overdue."
Outdoor recreation is vital to the economic and healthful well-being of America. The industry generates $887 billion in direct spending and supports 7.6 million jobs across all 50 states.
Secretary Zinke, representatives of the Outdoor Recreation Industry Roundtable (ORIR), key national park concessioners and Members of Congress discussed how improving infrastructure, encouraging innovation, and developing new and enhanced public-private partnerships will give the American people more opportunities to enjoy healthy, active fun on their public lands and waters, while helping outdoor recreation continue to grow as a powerful and positive economic force in America.
Public-private partnerships have existed on public lands and waters for more than a century and currently provide a vast array of services across the country. From the iconic lodges of our national parks to world-class ski resorts on national forests, federal agencies and private industry have a proven history of working together to provide great activities on public lands.
Expanding partnerships – especially at campgrounds – would allow park rangers to focus on welcoming visitors with a great experience, rather than on less mission-focused activities like fee collection and trash collection.
Following the meeting, Secretary Zinke led the group to Simón Bolivar Park and a showcase of American-made outdoor recreation products as part of "Made in America Week." There are more than 100,000 manufacturing jobs provided by the recreation industry – producing boats, RVs, off-road vehicles, outdoor equipment and more.
ORIR, NPHA and experienced partners across the country pledged to collaborate with the Department of the Interior and other federal land management agencies. They offered innovative solutions and expanded partnerships to advance a shared vision of increasing access to modern recreational opportunities and enjoyable experiences for all visitors to federal lands.
About the ATA:
The Archery Trade Association is the organization for manufacturers, retailers, distributors, sales representatives and others working in the archery and bowhunting industry. The ATA has served its members since 1953. It is dedicated to making the industry profitable by decreasing business overhead, reducing taxes and government regulation, and increasing participation in archery and bowhunting. The organization also owns and operates the ATA Trade Show, the archery and bowhunting industry's largest and longest-running trade show worldwide.
About the Outdoor Recreation Industry Roundtable:
The Outdoor Recreation Industry Roundtable is a coalition of America's leading outdoor recreation trade associations working to promote the policy and legislative reforms needed to grow the outdoor recreation economy. Roundtable members represent the thousands of U.S. businesses that produce vehicles, equipment, gear, apparel and services for the millions of Americans who enjoy our nation's parks, waterways, byways, trails and outdoor spaces. Combined, the various business sectors within the outdoor recreation industry generate $887 billion per year in economic activity and provide an estimated 7.6 million direct jobs. Coalition members produce the eight largest recreation trade shows in the U.S., and their members annually contribute $40 billion in federal excise tax, sales tax and duties.