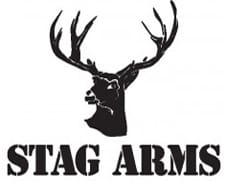 New Britain, CT –-(Ammoland.com)- Stag Arms announces that the new Stag 10 6.5 Creedmoor is now available, with the Stag 10 (6.5 Creedmoor/.308 Winchester) left-handed models available for pre-order. The Stag 6.5 Creedmoor was first introduced at the 2017 NRA Annual Meeting in Atlanta, GA.
The rifles feature a 22" 416R Stainless Steel barrel chambered in 6.5 Creedmoor with a 1/8 twist for long-range accuracy. The Stag 10 series features a Stag slant cut and includes uniquely designed parts for the lower to guarantee the best fit between receivers. The remainder of the rifle is designed to utilize the DPMS platform for maximum compatibility.
Stag Arms, known for being the first left-handed AR15 manufacturer, has also created their first left-handed AR10 platform. Available in both 6.5 Creedmoor and .308 Winchester, the Stag 10 series offers consumers the choice to shoot without compromising comfort, and enhancing the shooters natural position.
Stag Arms 6.5 Creedmoor RH M-LOK

"Ever since we announced the Stag 10 series, we've received an overwhelming response as to when these would be available and whether they would be offered in our famous left-hand configurations. We are very excited to release the 6.5 Creedmoor to the market today, while simultaneously launching our Stag 10 .308 left-handed models," said Stag Arms Marketing Manager Christopher Berlinski.

The Stag 10 6.5 Creedmoor can be purchased at www.stagarms.com. These models are currently on sale, while all of Stag Arms' non-sale items receive 20% off for the Stag Arms Independence Day Sale.
About Stag Arms
Stag Arms was founded in May 2003 with the goal of producing reliable, 100 percent American made Modern Sporting Rifles (MSR). The Company quickly became a market leader and one of the largest MSR manufactures in the United States. Since its early days, Stag has remained at the forefront of innovation, first by offering both left and right-handed MSR platforms, and by designing new models and features based on customer recommendations. All of Stag's rifles come with an industry leading lifetime transferable warranty and an infinite shot guarantee on the barrel.