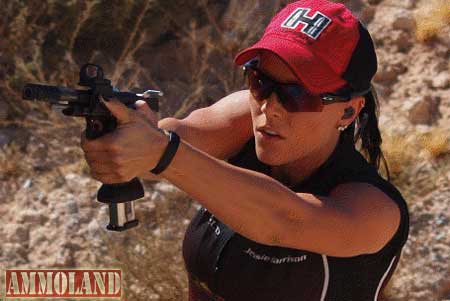 MIAMI, Fla. -(Ammoland.com)- Taurus USA congratulates team captain Jessie Harrison-Duff as she finished another successful competition at the 2017 US IPSC Nationals.
Jessie walked away with a first place finish in the Ladies Open, claiming this national title for the second year in a row.
The highly competitive match was held July 15-16, 2017 at the Universal Shooting Academy in Frostproof, Florida. Competing against some of the best shooters in the sport, combined with the added challenge of extreme weather conditions from the Florida heat and humidity, Jessie pushed through each of the 16 IPSC-style stages.
Finishing seventh place in the Overall and capturing the top seat in Ladies Open, Jessie credited her training regime to carry her through the match.
After winning the title, Jessie commented. "This match was a great challenge and helps me build momentum as I prepare for the upcoming IPSC Handgun World Shoot in August. It's a true honor to be representing the USA as part of the team competing in France. I'm training hard to make sure I am at the top of my game to help the team bring home the win for the USA!"
Jessie's next match will find her traveling at the end of August to compete at the 2017 IPSC Handgun World Shoot XVIII at the National Shooting Center located in Chàteauroux, France.
Be sure to check out their website for information about the Taurus brand and its valued products.
About Jessie Harrison-Duff:
Jessie Harrison- Duff has taken her shooting career from a beginner, all the way to a top-ranked professional, earning multiple World and National Champion shooting titles, in five different shooting disciplines. Among these are the prestigious Bianchi Cup and the World Speed Shooting Championships. Jessie has also ranked in numerous regional and state champion matches. Reaching this level of shooting performance in her career, defines a well-disciplined competitor and role model for the Taurus Shooting Team.
For more information, visit her Facebook page.
About Taurus USA:
Taurus Holdings, Inc. and its subsidiaries ("Taurus USA") continues to evolve and produce revolutionary new products. In addition, new standards for quality and efficiency help deliver reliable and affordable guns to the market. Taurus USA is based in Miami, Florida. Taurus Holdings, Inc. is owned by Forjas Taurus, S.A. which is a publicly traded company based in Brazil. Forjas Taurus manufactures a wide variety of consumer and industrial products that are distributed worldwide.
For additional information, visit their website.