USA – -(Ammoland.com)- Welcome back to The Legal Brief, the show where we CRUSH the various legal myths and misinformation surrounding various areas of the gun world.
I'm your host Adam Kraut and AK guys can rejoice or cry because today we are talking about why Veprs are now banned from importation.
Before we get started it seems as though not everyone is getting notified that there are new episodes of the show, so if you guys are enjoying this show and you're watching on YouTube I need you to ring that bell next to the subscribe button.
If you're watching on Facebook select "see first" under the following tab. This will make sure that you guys know when new videos come out on The Gun Collective.
VEPR Rifle Ban
Yes, you heard me correctly, Vepr rifles are now banned from importation. There is a bit of a complex story so bear with me. The Office of Foreign Asset Controls, also known as OFAC, is a branch under the Department of Treasury that administers and enforces economic sanctions programs primarily against countries and groups of individuals, such as terrorists and narcotics traffickers. The sanctions can be either comprehensive or selective, using the blocking of assets and trade restrictions to accomplish foreign policy and national security goals. The Department of Treasury has a long history of dealing with sanctions dating back to before the War of 1812.
On March 6, 2014, OFAC implemented a sanctions program against Russia when then President Barack Obama issued an executive order declaring a national emergency to deal with the threat posed by actions and policies of certain persons who among other things, threatened the peace, security, stability, sovereignty, and territorial integrity of Ukraine. Shortly thereafter, President Obama issued three more executive orders expanding the scope of the national emergency after other actions from Russia including the annexation of Crimea.
The executive order issued on March 16, 2014, a mere 10 days later, authorized the imposition of sanctions against persons who were operating in the arms or related materiel sector of the Russian Federation, as determined by the Secretaries of the Treasury and State. As a result, any companies named who operated within the arms sector of the Russian Federation were blocked from doing business within the United States. Notably the sanctions in 2014 affected Kalashnikov Concern, a manufacturer known for its Saiga rifles and shotguns. And no, they are not the same company as Kalashnikov USA.
So what does all of this have to do with the recent news? Well, it would seem that this newest sanction implemented against the company that makes the Vepr rifles Molot, Mullet, Muleot, whatever the heck it is, was bound to happen. According to an article The Firearm Blog published back in March, Molot went belly up 5 years ago and had since been under the control of a bankruptcy managing company. It wasn't until this year that the company was put up for sale. In order to participate in the auction, two rather large criteria were required. First, the purchaser needed to have a firearms manufacturing license and second, the purchaser needed to be able to keep to company running after the acquisition to fulfill Russian defense contracts. The article mentions that Russian financial analysts predicted Kalashnikov was the only company big enough that might be able to do just that.
While it is not clear to me based on what I could find whether or not Kalashnikov actually purchased Molot, it would appear that the United States Government has found some connection. On June 20, OFAC added Molot to the sanctions list with a note stating "linked to Kalashnikov Concern". The press release from the Department of Treasury stated that Molot "manufactures ordnance and accessories and is located in the Russian Federation. In 2016, previously-designated Kalashnikov Concern advised a foreign company to use Molot to falsify invoices in order to circumvent U.S. and EU sanctions. Molot is being designated for operating in the arms or related materiel sector of the Russian Federation and for acting or purporting to act for on behalf of, directly or indirectly, Kalashnikov Concern." As a result the importation of Molot products are now banned. Before you ask, I couldn't tell you if and when the sanctions will be lifted from either company. It would certainly seem that given the current political climate, it won't be any time soon.
So what does this mean for the Molot products that are already here and paid for by either you the end user, a dealer, distributor, or an importer? Nothing. However, if Molot still had a property interest in the products, meaning they weren't paid for in full or they were being sold on a consignment basis (and I'd love to know a manufacturer who would allow that), the sale of those particular firearms would be banned. For those that may have that issue, and this would likely only be for importers or distributors, they'd want to contact OFAC for guidance as to how to handle the inventory.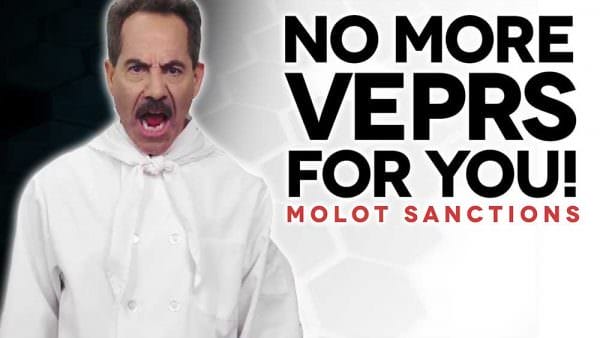 Now that you have a better understanding as to why Molot products are now banned from importation be sure to tell your friends. If you guys liked this episode, you know what to do, hit that like button and share it around with your friends. Be sure to check out my website adamkraut.com. Remember, if you have a question you want answered on this show, head over to The Legal Brief section on theguncollective.com. Don't forget to like The Gun Collective on Facebook, Instagram, YouTube, Full 30, Snap Chat and wherever else you can catch us on social media.
And as always thanks for watching!
Links for this episode:
Treasury Press Release – https://www.treasury.gov/press-center/press-releases/Pages/sm0114.aspx
Ukraine/Russia Sanctions – https://www.treasury.gov/resource-center/sanctions/Programs/Pages/ukraine.aspx
Ukraine/Russia Related Sanctions Program – https://www.treasury.gov/resource-center/sanctions/Programs/Documents/ukraine.pdf
Executive Order 13661 – Blocking Property of Additional Persons Contributing to the Situation in Ukraine – https://www.treasury.gov/resource-center/sanctions/Programs/Documents/ukraine_eo2.pdf
NRA-ILA Article on 2014 Sanction – https://www.nraila.org/articles/20140717/obama-administration-bans-import-of-popular-russian-firearms
The Firearm Blog – Molot for Sale – http://www.thefirearmblog.com/blog/2017/03/02/breaking-russian-molot-bankrupt-will-sold/
Sanctions Search – https://sanctionssearch.ofac.treas.gov
About The Gun Collective
The Gun Collective is dedicated to bringing you the highest quality, fast paced gun content possible. Started in June 2015 by Jon Patton, TGC has rapidly taken off to become a go-to source for the things you need to know without a bunch of BS. Please check out TheGunCollective.com to learn more and see what the hype is all about!