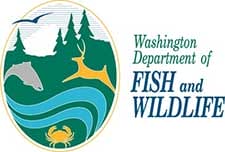 OLYMPIA— –-(Ammoland.com)- The Washington Department of Fish and Wildlife (WDFW) will close public access to Leque Island near Stanwood from July 17 until mid-October for a habitat restoration project designed to benefit shorebirds, waterfowl and salmon.
Much of Leque Island was historically a saltwater marsh that provided habitat for many species, including juvenile salmon, said Loren Brokaw, a restoration project coordinator with WDFW.
In the early 1900's, residents built dikes around the perimeter of the island to reclaim land for agricultural use and housing. Those dikes are now failing.
The department began purchasing Leque Island for habitat restoration in the 1970s. The island is part of WDFW's Skagit Wildlife Area.
Construction projects this summer will prepare the site for removing the perimeter levee in order to re-establish marsh habitat beneficial to fish and wildlife in the Stillaguamish watershed, said Brokaw.
Work this year will involve excavating new channels, filling ditches and building small islands in the interior of the island.
In the next phase, which WDFW anticipates will take place in 2018 or 2019, construction crews will remove the perimeter levee to reconnect the site to the tides. WDFW expects salt marsh habitat to develop on the site.
The Puget Sound Acquisition and Restoration Program (http://www.psp.wa.gov/PSAR.php) and the National Oceanographic and Atmospheric Administration (NOAA) http://www.noaa.gov/ are providing grants to fund the project.
Those interested in learning more about the project and restoration plan should visit http://wdfw.wa.gov/lands/wildlife_areas/skagit/leque_island_project.php