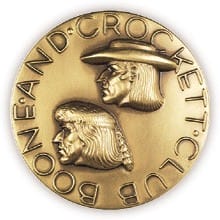 MISSOULA, Mont. –-(Ammoland.com)- U.S. Secretary of the Interior Ryan Zinke recently presented a draft report to President Trump, which includes his findings and recommendations on previously designated National Monuments. The review was ordered by President Trump via an Executive Order to ensure public access, hunting and fishing, and traditional land uses and management, among other things, were not overly restricted.
The Boone and Crockett Club, the nation's oldest conservation organization, played a critical role in the initial passage of the Antiquities Act of 1906, as well as the creation of the U.S. Forest Service, U.S. Fish & Wildlife Service, National Park Service and Bureau of Land Management – the key federal land management agencies beside the Department of Defense. Given this history and the Boone and Crockett Club's continued involvement, the Club applauds this thorough review of recently designated monuments. Timely reviews on all critical designations will ensure accountability, demonstrating that benefit to the public and wildlife is actually being accomplished properly.
"Significant concerns have been raised by hunters and other sportsmen regarding the newly designated National Monuments that justified a thorough review of them," said Paul Phillips (Oregon), co-chairman of the Club's Conservation Policy Committee. "Unfortunately, some have chosen to level direct and personal attacks toward Secretary Zinke and we wonder why. If nothing else, these reviews may identify best practices, which will guide future actions. Such reviews can actually result in better conservation, especially for wildlife, and opportunities for the public to enjoy them. We appreciate Secretary Zinke's review and look forward to learning about the findings."
The Antiquities Act provides a way to place the special distinction of a National Monument status on existing federal lands to protect historical landmarks and lands of scientific interest. Problems arise, however, when the designation limits vital land management practices and how people can use these public lands.
"National Monuments have not always been good for sportsmen and wildlife, and should be reviewed," said James L. Cummins (Mississippi), also a co-chairman of the Club's Policy Committee. "Declaring land as national monuments can appear as a conservation success, but only on paper. What actually makes for a true conservation success is a combination of active management on the land and the appreciation the public gets by visiting the land. This requires professional conservation managers doing the work and people with varied recreational interests given opportunity to appreciate the results. Both need access for conservation to work.If we, as a nation, are to continue to have the greatest system of conservation in the world, we must continue to not only review, adjust and modernize our laws and regulations, but adapt them to the political, economic, social, technological and environmental changes facing our nation."
While well intended, designation of large tracts of public lands as monuments without provision for access can lead to a loss of conservation value. Restricted recreational access and reduced management of wildlife habitats can lead to dwindling wildlife populations and less community involvement on the management of lands in their backyards.
Any changes proposed and enacted by the Trump Administration will not alter federal lands' ownership status or the multitude of laws that govern their management and protection for environmental and public values.
About the Boone and Crockett Club
Founded by Theodore Roosevelt in 1887, the Boone and Crockett Club is the oldest conservation organization in North America and helped to establish the principles of wildlife and habitat conservation, hunter ethics, as well as many of the institutions, experts agencies, science and funding mechanisms for conservation. Member accomplishments include enlarging and protecting Yellowstone and establishing Glacier and Denali national parks, founding the U.S. Forest Service, National Park Service and National Wildlife Refuge System, fostering the Pittman-Robertson and Lacey Acts, creating the Federal Duck Stamp program, and developing the cornerstones of modern game laws. The Boone and Crockett Club is headquartered in Missoula, Montana. For details, visit www.boone-crockett.org.