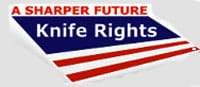 Gilbert, Arizona – -(Ammoland.com)- The devastation wrought by Hurricane Harvey has affected many Knife Rights members and supporters in south Texas. Many of our members and friends throughout Texas are also involved in rescue, recovery and support operations.
Our thoughts and prayers go out to all those who are suffering from the wrath of Hurricane Harvey and for the safety of all those working to support those impacted by this extraordinary natural disaster.
Out of respect for our Texas members, supporters and all those adversely impacted, Knife Rights is postponing our BYOB: Bring Your Own Bowie Freedom Celebration at the Alamo. We are working with the management team at the Alamo to pick a new date in the near future.
This Friday, September 1st, Texans will finally be free to carry a Bowie knife, ending over 140 years of insult to the memory of Colonel James "Jim" Bowie, co-commander of the Alamo garrison and hero of the Texas Revolution. The enactment of Knife Rights' Texas HB 1935 eliminates from Texas statute the prohibition against carrying "illegal knives," including daggers, dirks, stilettos, poniards, swords, spears and most notably, Bowie knives. This allows them to be carried throughout the state with the exception that knives with blades over 5.5 inches are now restricted from carry in a limited number of locations.
For full details on the new Texas law and a complete list of the limited places where you cannot carry "location restricted" knives with blades over 5.5 inches, please see: www.KnifeRights.org/hb-1935-bottom-line
We look forward to celebrating this new-found freedom with our Texas friends at the historic Alamo in the not too distant future.
In 2013 Knife Rights' repeal of Texas' switchblade ban was enacted. In 2015 we got Knife Law Preemption enacted, removing all local knife ordinances more restrictive than Texas state law. Now in 2017 we have removed all of the "illegal knives" in Texas law, finally allowing Texans the right to carry a Bowie knife, dagger and virtually any other knife. But, we are not yet finished. We will be back in two years to see about striking those last remaining minor knife restrictions in Texas. We won't stop until Texas is a free as everyone thinks Texas is.
About Knife Rights
Knife Rights (www.KnifeRights.org) is America's grassroots knife owners organization, forging a Sharper Future™ for all Americans. Knife Rights is dedicated to providing knife owners an effective voice to influence public policy. In the past eight years, Knife Rights has helped pass legislation repealing knife bans in 20 states. In Texas this has included repeal of the state's Switchblade Ban in 2013, passage of Knife Law Preemption in 2015 and Repeal of the "Illegal Knives" statute in 2017. Knife Rights also leads a federal civil rights lawsuit against New York City and the New York District Attorney over the unconstitutional arrest and prosecution of over 70,000 knife owners for carrying common folding knives.
Media Contact:
Todd Rathner
[email protected]
520-404-8096