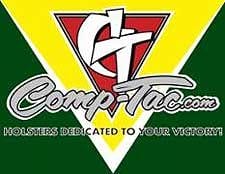 HOUSTON, Texas -(Ammoland.com)- Comp-Tac's Beltfeed magazine pouches are engineered for even greater efficiency. Now shooters can carry their magazines with the cartridges facing either rear or front and still have fully adjustable pull speed and magazine retention, but wait–there's more.
Internationally famous for their holster line Comp-Tac's Beltfeed magazine pouch system is a one of a kind product.
Each Beltfeed unit is made up of four magazine pouches. The Beltfeed system staggers pouch position on the wearer's belt so more magazines can be carried in the same real estate on the shooter's belt.
The unique Beltfeed pouch staggering is a valuable feature for those having smaller waist measurements such as junior shooters and slighter built people.
Each pouch can be individually adjusted for precise removal tension which is a huge advantage in competition and helpful for LEO and civilian carry. The Beltfeed can service either right-hand or left-hand shooter's belt position.
Specifications:
Available for over 150 pistols (see website for choices)
Kydex in: Black, red, blue, purple, pink
MSRP: 99.99
Another significant no look and fumble free benefit is how the staggering (side to side and height) allows for much faster access to the magazines for critically important fast reloads.
More magazines is especially important for those using single stack firearms in longer competition scenarios that may require more ammunition. And, if a competitor were to drop a magazine in the dirt on a reload–it is good to have a spare.
Law enforcement and civilian carry situations can also benefit from the many Beltfeed advantages should the occasion arise. More ammunition in less space is especially important on equipment packed law enforcement service belts.
About Comp-Tac Victory Gear, LLC:
Comp-Tac Victory Gear, LLC combines experience in personal protection and tactical applications combined with the love of pistol shooting competitions into every product they develop. Comp-Tac strives to deliver high value, quality solutions and improvements at the best price. With satisfaction a top priority, we ensure speed, quality and superior customer service to support your desire to take responsibility for personal safety, security and recreational firearm use.