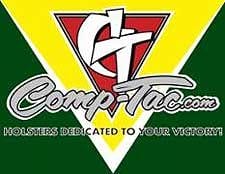 USA -(Ammoland.com)- Comp-Tac Victory Gear employees to represent the United States in IPSC world championships in Chateauroux France August 20 – September 3, 2017.
t is rare when a shooting gear company can actually field national- and world-level competitors from its ranks, let alone from management – but Comp-Tac Victory Gear really does talk the talk and walk the walk!
Sales manager Randi Rogers will be on the U.S. Ladies Production team. She is a many-time world, U.S., and you name it handgun champion in everything from SASS, IDPA, IPSC, USPSA and whatever, for 20 years (and counting!).
Randi's winnings for this outrageously tough sport at the world level:
1st Overall Ladies Standard Division and gold with the Ladies U.S. Standard team in Greece 2011
3rd Ladies Standard, plus a gold medal with the Ladies U.S. Standard Team at the 2014 World Championships in Frostproof, Florida.
General manager Gordon Carrell will represent the U.S. in the Men's Senior Production team International Practical Shooting Confederation (IPSC) world championships. He is a winner in multiple IDPA state, regional and national championships.
These teams are made up of four individuals each and are two of nine different competition categories (not just teams) from around the world. Qualification is tough! In order to qualify for the U.S. team, the shooters must have competed in both the United States Practical Shooting Association (USPSA) and IPSC National Championships for the last two years.
Their combined scores are ranked on how they finished in these major national championships – and only if those scores are high enough do they get offered a slot on the U.S. team.
"Our company believes strongly in first-hand proving its products," says Rogers, "and Comp-Tac Victory Gear holsters is unique in that, as company executives, we can and are honored to represent the United States in these world championship matches."

"I am humbled by this opportunity and consider this a real honor to represent the United States and our products in these world championships," says Carrell.
The 2017 IPSC World Championship match will consist of 30 scenario stages shot over the course for six days using a minimum of 501 rounds of ammunition per competitor.
About Comp-Tac Victory Gear, LLC:
Comp-Tac Victory Gear, LLC combines experience in personal protection and tactical applications combined with the love of pistol shooting competitions into every product they develop. Comp-Tac strives to deliver high value, quality solutions and improvements at the best price. With satisfaction a top priority, we ensure speed, quality and superior customer service to support your desire to take responsibility for personal safety, security and recreational firearm use.