by Tyler Hutch
Tyler give us his first impressions on shooting the Grey Ghost Precision Geoscale GLOCK17 Slide.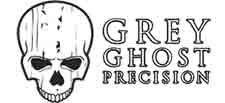 U.S.A. –-(Ammoland.com)- Alright ladies and gents, take a knee, face outboard and grab some water – it's time to talk GLOCK slides.
Let's get down to business. Recently I was invited to do some work for the legendary, Grey Ghost Precision. I've known for some time that GGP is exceptionally end-user centric and like any gear guy, I was excited to be part of the team.
Grey Ghost Precision Geoscale GLOCK17 Slide
One blistering afternoon, I rolled up to "The Farm" and spotted a visual on a dust plume from a black SUV advancing on my location. Upon its arrival to my location, I connected with GGP CEO, Casey Ingels, and Vice President, GW Ayers who, like Santa Clause, arrived with a truck full of brand new, precision GLOCK slides. Almost instantly, I was handed a Grey Ghost Precision Geoscale GLOCK17 Slide and instructed to run the gun as hard as I possibly could, like I "normally would."
The first inspection of the pistol revealed a precision milled slide, cut to within only a few ten – thousandths of an inch, the ever-coveted front and top cocking serrations, and a G10 GGP cover for the RMR cut. Sure, it's the hotness, but I've got Marine in my blood and I could probably break a bowling ball in a padded room.
I loaded mags full of Lightweight NAS3 Cased 9mm Fallout Ammunition and Winchester 9mm 115 Grain NATO ammunition, and got to the firing line. Drawing the pistol out, I grab the rear of the slide for a slingshot into battery. Personally, I carry a G17 every day, and know the feel of my lifeline weapon system better than my significant other; but there's something different here. The familiar slippery Tenifer finish is missing – instead, it is replaced with a matte Cerakote, and it feels incredible! I had already been drawn to GGP's Geoscale mill design, simply based on CDI (chicks dig it), but I really began my affair when I observed plenty of the tactile definition for positive control.
Beginning at 10 meters, I took my stance and found front sight picture. Slow, steady squeeze – and steel rings. I duplicate 16 more times; repeatedly stacking impacts on steel one after another. I know what you're thinking; "it's 10 meters and I do that with my Hi Point." Don't worry – after that little warm-up, I decided it was time to stretch the Grey Ghost Precision Geoscale GLOCK17 Slide out to 25 and then 50m, where the men are separated from the boys, and the GLOCK's from the Hi Points.
The affair started to turn into a real relationship at this point – 25 meters and beyond weren't the chore that they so routinely are, I found myself comfortably engaging at distances even the Marine Corps says are ineffective for pistol engagements.
I'm just going to oblige myself and quote Wyatt Earp, "Fast is fine, but accuracy is final." In running this blaster, I found it difficult to not be impressed by the ability to stack hit after hit atop one another. Typically with an OEM GLOCK, you'll get some variation, amplified by distance. I'm not trashing the stockers, either – GLOCK builds one hell of a firearm, but GGP has taken your high school Chevy Nova and supercharged it. Variation is not something I observed with the Grey Ghost, in fact it made all my own shooter errors that much more noticeable. From the exceptionally positive lock up, to making a ragged 3/4″ hole at 25 meters, I'm absolutely pleased.
(Note to the disconcerting reader, I'm not a goon getting paid to shovel nonsense. I'm a gun and gear aficionado who likes what works and scoffs at that which does not. I've had plenty of time behind some high-end aftermarket blasters that cost THOUSANDS of dollars and keep a tight pattern. So for me in a personal sense, the fact that for a fraction of that cost I can have the same if not better results brings peace to my otherwise irreverent mind.)
After warming up both literally and figuratively in the desert sun, I wanted to test the articulation of the Geoscale GLOCK17 slide under more adverse conditions. With the assistance of my Pic Pro (photographer, for the lay man) Matt, I poured the half-gallon of sweat from my dome piece into my hands, which were then given a healthy dose of dirt and gravel.
With the impromptu test conditions set, I jammed a mag home and went for the sling shot; no issue.
Dump the dry mag, jam the second and go for the sling shot; no issue.
After the third and fourth, it became painfully obvious that I needed this GGP on my own rig, I found marked improvement over standard cocking serrations and GLOCK's god-awful Tenifer.
As most of you modern day gunslingers do, I prefer to run a red dot on my blaster and tantamount to that, I do most of my slide manipulation fore of the chamber. The GGP Geoscale GLOCK17 is front and top serrated and so recreating the test conditions, I ran from the front of the slide.
If the outcome isn't already obvious; non-issue.
At the end of the day, I almost felt bad that I had run through the 1,500 rounds of 9mm supplied by Grey Ghost. Almost.
Before packing away the new love-of-my-life (Geoscale), something different about the feel of it grabbed my attention. I marched back to my vehicle and grabbed my old, faithful G17 and put it side by side with the Grey Ghost Precision version. Anyone who has spent time slinging lead and hate in the desert knows that with temperatures around the 102 mark, plus the projection of hundreds and thousands of rounds, things tend to get wobbly, loose, melt or just fall apart.
I realized the difference that grabbed my attention – and that was the fact that the GGP had ZERO slide wobble. Even my stock 17 which had been sitting forsaken in the shade held a notable lack of tolerance.
After the heartbreak of watching the Grey Ghost Precision Geoscale GLOCK17 Slide ride off into the sunset subsided, I sat and thought about how I wanted to wrap this whole experience up and tie a bow on it. I've come to the realization that peace making lead farmers want precision and versatility, you know where to find it. As for myself, I've got to break the news to my wife that I have to buy a new slide and hope she isn't jealous of my affection for that Grey Ghost Precision Geoscale.
About the Author: Tyler
Tyler has been an armed professional for the duration of his adult life. He joined the Marine Corps when he was 18-years-old, and served with 2nd Battalion 7th Marine Regiment, Golf Company. Deployed to Afghanistan in '08 with TF 2/7 and worked his way into the Battalion's Scout/Sniper Platoon once he returned CONUS. After leaving the Corps, Tyler entered the world of Law Enforcement and that is where he has maintained a career in SWAT.