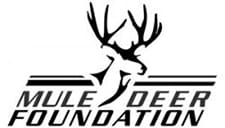 Salt Lake City, Utah – -(Ammoland.com)- The Mule Deer Foundation (MDF) announced today that it has hired Brian Fienhold as the organization's Chief Operating Officer.
Fienhold's career has focused on building relationships, developing solutions, and delivering results in demanding, client-focused roles spanning several industries including energy, communications, and technology. Since 2015, he has served as the Chairman of the MDF Board of Directors and has been directly involved in the organization's expansion during his tenure.
"We welcome Brian to the Mule Deer Foundation in his new role as Chief Operating Officer. Brian brings the experience of being on the Board of Directors as well as a local volunteer at the chapter level," commented MDF's President/CEO, Miles Moretti. "His passion for MDF and mule deer along with his organizational and leadership skills will help MDF continue to grow as one of the leading wildlife conservation groups in North America."

"I am very excited to be joining Miles and the team he has in place at the Mule Deer Foundation. Over the past several years, MDF has significantly grown its presence within the wildlife conservation space and I believe the organization is positioned better today than at any point in its history to reach even greater heights," Fienhold noted.

"Accordingly, I look forward to working with Miles and the entire MDF team to make certain that we continue to earn the trust and respect of our members and supporters, while at the same time doing everything we can to ensure the conservation of mule deer, black-tailed deer, and their habitat."
Fienhold most recently worked at Accenture and was previously Director of Origination at Occidental Power, building expertise ranging from trading and marketing to change management and system implementation. He earned an MBA in Managerial Finance from DePaul University in Chicago and a Bachelors in Accounting from the University of Illinois at Urbana-Champaign. In addition to his business experience and educational background, Fienhold possesses a lifelong passion for hunting and conservation.
He grew up hunting white-tailed deer and pheasants with his father in Illinois, eventually falling in love with spot and stalk mule deer hunting in the West. Fienhold helped establish MDF's Houston Chapter and grow MDF's presence in Texas, which now has some of the highest performing chapters within the organization. His local chapter involvement built his engagement in the national organization, ultimately leading to his participation on the board of directors.
"As a Board, we are really excited to attract an individual of Brian's caliber to the COO position. He has been an advocate for mule deer, conservation, and our MDF members and volunteers during his tenure on the Mule Deer Foundation board," said acting chair of the MDF board, Aaron Oelger.

"If you have seen him in action, coordinating conservation projects in Texas or working the many banquets he attends each year, you will understand why we expect him to bring a member-oriented focus to the day-to-day duties in our Salt Lake City headquarters. He will be a great resource for Miles Moretti and his staff."
About MDF
The Mule Deer Foundation is the only conservation group in North America dedicated to restoring, improving and protecting mule deer and black-tailed deer and their habitat, with a focus on science and program efficiency. MDF is a strong voice for hunters in access, wildlife management and conservation policy issues. MDF acknowledges regulated hunting as a viable management component and is committed to recruitment and retention of youth into the shooting sports and conservation. Get involved in your state or become a member at www.muledeer.org or call 1-888-375-3337.