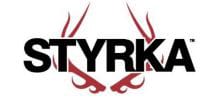 USA -(Ammoland.com)- Styrka is very pleased to announce it has added O'Dell Engineering, Ltd., of Puslinch, Ontario, as its Canadian distributor. O'Dell Engineering and its staff represent many shooting sports brands across Canada and its 13 provinces.
"O'Dell Engineering has been a mainstay in the Canadian shooting sports market for over 20 years," said Joshua Lazenby Operations Manager for Styrka. "They are the Canadian distributor for Bergara Rifles, Colt Canada, and Aguila Ammunition, among others. We're very excited to partner with this experienced, high-energy firm."
"Styrka binoculars, rifle scopes, red dots and spotting scopes are all made with the hunter firmly in mind," said Philip O'Dell, president of O'Dell Engineering. "Canadians have a long and passionate relationship to hunting, and the shooting sports in general. We know Canadians will embrace Styrka's line of fine optics, especially given the value these products represent."
O'Dell Engineering Ltd. was established in 1995 as a source for custom firearms engineering support to the industry. In addition to its distribution work, O'Dell provides engineering, quality assurance, and product development support to a wide range of shooting industry firms and manufacturers.
See all that O'Dell Engineering can do on their website.
"With two decades-plus of working with Canadian and overseas firearms-related companies, O'Dell is the perfect distributor to bring Styrka optics to Canadian hunters and shooters," Lazenby added. "We're looking forward to a long and mutually-profitable relationship."
For more about Styrka, please visit their website.
About Styrka:
Launched in 2015, Styrka offers a dynamic line up of hunting scopes, binoculars, red dots and spotting scopes. The Styrka philosophy is simple but non-negotiable: make high quality optics at affordable prices; always tell your customers the truth about what optics can and can't do; and, stand behind your products 100-percent, forever. Styrka Pride. Styrka Strong.
To learn more about Styrka Optics, please visit their website.