Mike Searson reviews the The Peltor Sport Tactical 500 Electronic Hearing Protectors's advanced features.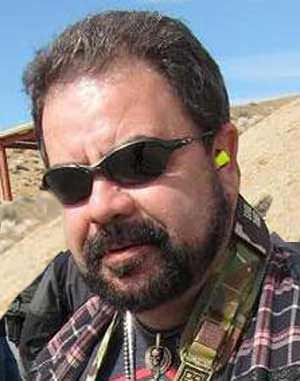 USA –  -(Ammoland.com)- We tend to avoid wearing hearing protection under most circumstances because we are blessed to own a number of silencers.
However, ear pro is a necessary evil.
This is especially true when it comes to shooting revolvers, firearms without a threaded barrel or if you are shooting at a range with a bunch of Philistines who still think silencers are illegal, overpriced, what have you.
Having small ear canals means that we do not like shoving foam plugs in our ears, so we typically rely on over the ear muffs.
Our brand of choice for nearly 30 years has been Peltor and we leaped at the chance to don their newest model: the Peltor Sport Tactical 500.
These are electronic muffs that retain the ability for the shooter to hear normal conversations and when used in the field for hunting, and can actually amplify low-level noise a bit. Peltor's Sport Tactical 500 features all new proprietary 3M SMART technology, which automatically adjusts to a shooter's environment and firearm sound.
According to the company, this SMART technology "measures the energy in gunshot noise as well as echoes in the environment and automatically sets suppression time for optimized comfort and communication."
What that means is that any sound greater than 82 dB is reduced, while low-level sounds (like a deer stepping on fallen leaves) are amplified.
The muffs also feature Bluetooth and a built in microphone. If you pair the muffs with your smart phone you can receive calls, make calls and listen to music through them. There is even a 3.5mm port to connect to your phone with a wire if you need to do so.
They are a far cry from the Tac-sixes and Tac-sevens from over two decades ago!
Peltor Sport Tactical 500 Electronic Hearing Protector – The Good
On a number of range sessions we wore the Tactical 500s from sessions as short as 30 minutes to some as long as three hours. The muffs felt so good that we did not want to take them off, even during a cease fire. The adaptable noise filter keeps the sound of gun fire quiet but still allows you to carry on conversations or hear commands from the RSO.
We should add that we use a headband cover from OC Tactical on our muffs that provide a bit of cushioning as well as give you Velcro on top to add a name tag so that nobody boosts them if you set them down. There is also a loop centered in the back allowing you to hang your Peltor Sport Tactical 500 using a carabineer or GrimLok.
Volume is completely adjustable and the muffs will issue smart commands like "power on" and "Bluetooth connected" at the appropriate times.
In using the Bluetooth feature with our phone, we found the recessed foam covered microphone to excel at eliminating noise from what we refer to in the Sierras as "The Washoe Wind". We may try to pair this up with our camera the next time we shoot a video.
Speaking of Bluetooth, we did have an issue connecting it to our IPhone 6S Plus. The phone would not detect the muffs for about a week. When we turned to Peltor for advice, they had an expert get back to us and walk us through setup. That's what we call customer service!
When we unpacked the muffs we were happy to see that they were powered by a pair of easy to find AA batteries. The tech from Peltor advised that the Tactical 500s will give an audible "low battery" warning as they begin to lose power.
Probably our two biggest takeaways from here are: even without the Bluetooth, these were still an outstanding pair of muffs and even with dead batteries they will still function as ear pro.
If Bluetooth is not a necessity, they offer the lower priced Peltor Sport Tactical 300 Electronic Hearing Protectors without it.
Lastly, there are cut-outs at the bases of the ear cups that will not interfere with the stock of a long gun and they fold up compactly for storage in an included micro fiber bag to easily store in the external pocket of a range bag.
Peltor Sport Tactical 500 Electronic Hearing Protector – The Bad
While it was cool to stream Sirius XM through our ear muffs or listen to playlists, these are not a pair of Beats. Sound quality for music is not the greatest, but for taking calls it was more than fine.
There is little adjustment on the head strap. If you have a melon like Bonk the Caveman, you might be out of luck with these. We wear a size 7 1/2 hat and fitting them over a ball cap was anywhere from challenging to an exercise in futility.
Peltor Sport Tactical 500 Electronic Hearing Protector – The Reality
Peltor's Sport Tactical 500 provides top of the line hearing protection and an abundance of creature comforts for the price. MSRP is $200, but if you know where to go, you can find them for much less. We saw them on Amazon for $144.
If you are still waiting for the HPA, aka the SHUSH Act to pass, you may want to grab a set of these to wait it out.
About Mike Searson
Mike Searson's career as a shooter began as a Marine Rifleman at age 17. He has worked in the firearms industry his entire adult life as a Gunsmith, Ballistician, Consultant, Salesman, Author and was first certified to teach firearms safety in 1989.
Mike has written over 2000 articles for a number of magazines, websites and newsletters including Blade, RECOIL, OFF-GRID, Tactical Officer, SWAT, Tactical World, Gun Digest, Examiner.com and the US Concealed Carry Association as well as AmmoLand Shooting Sports News.
Home page: www.mikesearson.com
FB: www.facebook.com/mike.searson
TWITTER: www.twitter.com/mikesearson