Mike Searson reviews the SOG Baton series of multi-tools for EDC ( everyday carry ).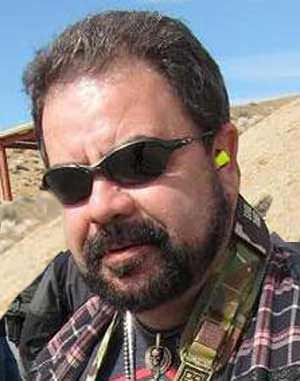 USA –  -(Ammoland.com)- SOG Knives and Tools is no stranger to multi tools. The company prides itself on its compound leverage technology when it comes to building a set of pliers and they have been a viable contender in this market for 25 years.
However, they have taken the multi-tool in another direction with their new Baton series. With four models to choose from, users have a few unique choices when it comes to EDC.
The EDC Movement
EDC stands for "Every Day Carry" and most often refers to the items most of us carry on a daily basis.
Our personal EDC list can be pared down to fiver core tools:
Handgun
Knife
Flashlight
Pen
Phone
Some folks like to add multi-tools, blow-out kits, saps, brass knuckles, fishing gear, Halligan tools, 14" barreled firearms that fire 12 gauge shotgun shells, thermal imagers, Ninja stars, handcuffs, ASP batons, Tasers, grappling hooks, lock picks and God knows what else will show up on an Instagram pocket dump.
The problem is that these folks roll out with more gear than Batman can stow on his utility belt and they start hauling it around in 3-day packs so they can bivouac at the local Starbucks. Some people seem to think they need all this gear and in some cases their job or environment may dictate most of this stuff.
For the majority, though, we need less and some of that group can combine tools in smaller, simpler packages. This is where the SOG Baton products can fill a few needs.
Each of the SOG Batons is no bigger than a large fountain pen. As such they can be toted much easier than a full-sized folding set of pliers and as with any compromise, there is a bit of a trade-off.
If you are an auto mechanic, these tools will not survive in your shop for long if you use each feature on a daily basis. On the other hand, if you need one of these tools on an irregular basis, the lightweight construction and simplicity of the SOG Batons means that one will most likely be there when you really need it.
The first Baton we received was the SOG Baton Q1 Urban Multi-Tool. It contains four basic tools: Pen, scissors, can opener and flathead screwdriver. This is the ONLY ONE that is TSA compliant and is probably the most useful. We have been carrying it every day for the past few weeks and the scissors is one of the more useful pair of pocket scissors we have ever come across.
Writing with the pen may take some getting used to as the tool weighs over 2 ounces and is on the thick side for a pen.
That said, out of all the batons, this is the one we use the most.
SOG Baton Q2 Urban Multi-Tool | 2.5-Inch Blade, Bottle Opener, Screwdriver, LED Flashlight
The second tool in the lineup is the SOG Baton Q2 Urban Multi-Tool and this is for the person who really does not want to EDC a lot of gear. It includes a 60 Lumens flashlight, short knife blade, can opener and flathead screwdriver. This was probably our least favorite of the bunch as the knife blade is not the most intuitive to deploy.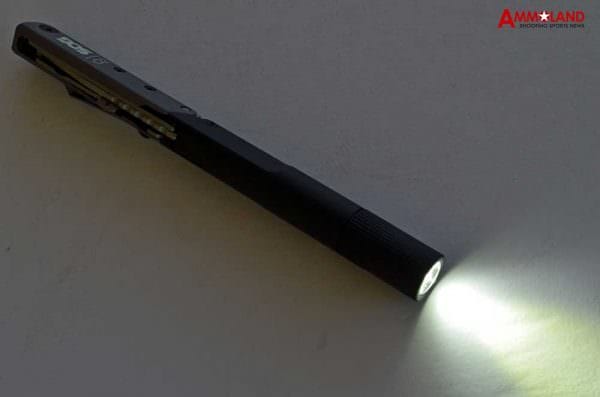 While the flashlight may seem anemic compared to pocket flashlights that throw out 500 Lumens, this one is powered off of a single AAA battery and it is acceptable for most common flashlight tasks. We probably would have preferred to see a scissors as opposed to a knife blade in this one.
Deploying the knife on this is the least intuitive of all the Batons that we tried. That said, it makes for a strong lock up when in use, but be careful that you do not stab yourself with it on the way out or in.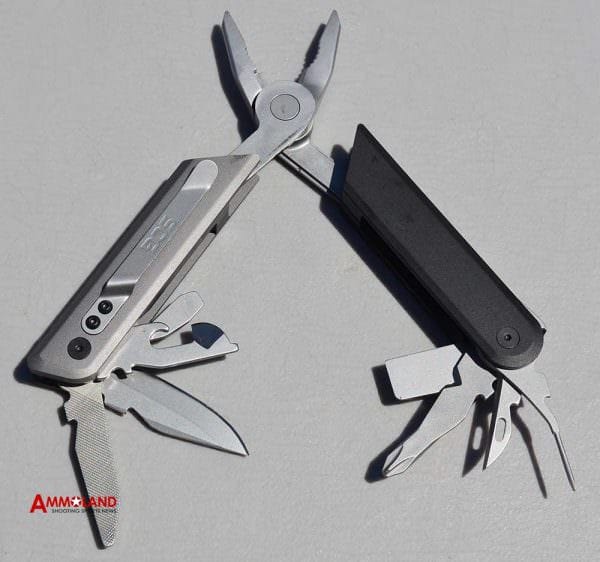 Up next, the SOG Baton Q3 Multi-Tool is more like a traditional multi-tool as it boasts 13 tools as opposed to 4 or 5. When extended you get a working set of pliers, soft wire cutter, awl, straight edge knife blade, bolt/nut gripper (actually part of the pliers), bottle opener, can opener, chisel, 3-sided file, Phillips screwdriver, small and medium flat head screwdrivers and a jewelry driver for repairing eyeglasses frames, etc.
We found all of the tools to be strong and practical and easy to fold back and out of the way as opposed to multi tool designs by other makers.
SOG Baton Q4 Multi-Tool | 10 Tools w/ 12-Piece Hex Bit Kit & Leather Carry Case
Building on the Q3, SOG replaced one of the side handle's folding tools with a magnetic hex driver and 12 bits. Of all the tools the SOG Baton Q4 Multi-Tool, one comes with its own vinyl carrying case that tucks away in a glove box or pack pouch.
Final Thoughts
These tools are versatile enough that you can mix and match them to take with you on your adventures whether it is a weekend camping trip or back and forth to the office. Our favorite combination is the Q1 in a hip pocket for daily tasks and a Q3 in our laptop bag with the Q4 in our glove box. We could personally do without the knife blade in the Q2 and feel that could have been a better design with a pen replacing the knife blade or incorporating the folding scissors of the Q1.
Maybe that could be the Q1.5 in the future (flashlight, pen, scissors and bottle opener/screwdriver).
About Mike Searson
Mike Searson's career as a shooter began as a Marine Rifleman at age 17. He has worked in the firearms industry his entire adult life as a Gunsmith, Ballistician, Consultant, Salesman, Author and was first certified to teach firearms safety in 1989.
Mike has written over 2000 articles for a number of magazines, websites and newsletters including Blade, RECOIL, OFF-GRID, Tactical Officer, SWAT, Tactical World, Gun Digest, Examiner.com and the US Concealed Carry Association as well as AmmoLand Shooting Sports News.
Home page: www.mikesearson.com
FB: www.facebook.com/mike.searson
TWITTER: www.twitter.com/mikesearson