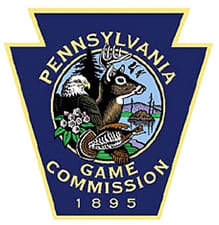 USA -(Ammoland.com)- Two lingering vacancies on the Pennsylvania Board of Game Commissioners have been filled by Michael Mitrick, of York, and Stanley Knick Jr., of Dupont.
Mitrick was selected from Region 6, which includes Adams, Cumberland, Dauphin, Franklin, Juniata, Lancaster, Lebanon, Mifflin, Perry, Snyder and York counties. This position was left vacant when former Game Commissioner Ronald Weaner's term expired.
Knick was selected from Region 7, which includes Carbon, Lackawanna, Luzerne, Monroe, Pike, Susquehanna, Wayne and Wyoming counties. This position was left vacant when former Game Commissioner Jay Delaney's term expired.
Commissioners are selected from eight geographic areas of the Commonwealth to ensure uniform representation throughout Pennsylvania. Once appointed, however, commissioners represent all Pennsylvanians, not just those from their region.
Mitrick grew up in Illinois, where his father introduced him to rabbit and pheasant hunting. He continued to hunt pheasants throughout his college years. When he moved to Pennsylvania in 1981, deer hunting quickly became his new passion. He has held a Pennsylvania hunting license every year since moving to the state.
Mitrick is a member of several sportsmen's organizations including Starview Sportsmen's Association, York Riflemen and S&M Hunting Lodge.
When he's not enjoying the outdoors, Mitrick can be found working as an orthopedic surgeon at OSS Health in York, Pa.
In addition to hunting in Penn's Woods, Mitrick has hunted and participated in outdoor recreational activities in several other states and countries.
"These experiences have given me a broad perspective while fostering my ever-deepening appreciation of Pennsylvania," Mitrick said. "I hold Pennsylvania and its great outdoors very near and dear to my heart."
Knick has been an avid hunter and angler for 43 years. He enjoys hunting on state game lands in northeastern Pennsylvania. He also has hunted in New York and Wyoming with his family.
Knick was raised on a dairy farm and believes the lessons learned there helped him better understand animal management and habitat.
Currently, Knick owns and operates Knick Fence Company in Dupont, Pa. He also has worked for Northeast Arborists, of Pittston, and Mark's Landscaping, of Dupont.
As a commissioner, Knick said he wants to focus on Pennsylvania's youth.
"I believe that we should get our youth more involved in the great outdoors," Knick said.
Agency Executive Director Bryan Burhans said the agency welcomes the addition of Game Commissioners Stanley Knick Jr. and Michael Mitrick.
"The wildlife-management issues that confront the agency's Board of Commissioners are more complicated and farther-reaching than at almost any other time in the Game Commission's history," Burhans explained. "The time required to be a Game Commissioner today is daunting and the decisions they are making will span generations. It obviously is not an easy stay."
Two more Game Commissioner vacancies loom. Game Commissioner David Putnam's term expired May 5, and he is serving out a six-month extension – unless a new commissioner is appointed before the extension expires. Putnam was selected from Region 3, comprising Cameron, Centre, Clearfield, Clinton, Elk, Jefferson, McKean and Potter counties.
In addition, Game Commissioner Robert Schlemmer's term expired on June 16, and he's serving out a six-month extension – unless a new commissioner is appointed before the extension expires. Schlemmer was selected from Region 2, comprising Allegheny, Armstrong, Beaver, Fayette, Greene, Indiana, Washington and Westmoreland counties.
Mitrick and Knick each will serve four-year terms on the Board of Game Commissioners.