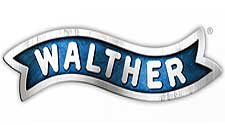 FORT SMITH, Ark. –-(Ammoland.com)- Walther Arms, Inc., in partnership with GunBuyer.com, is proud to announce an expansion of the popular PPQ line with the addition of the 5" PPQ Classic in 9mm.
This new 5" PPQ Classic comes equipped with the paddle magazine. It is topped with a 4.5mm / 0.177" height LPA fiber optic front sight and a polymer click adjustable rear sight. This 5" Classic PPQ will include two magazines, a 15 round magazine and an extended 15+2 magazine. After repeated requests for more options with the traditional paddle mag release, combined with the continued growth in demand for 5″ guns lead Walther to bring this exciting new PPQ to market.
This Walther 5" PPQ Classic Pistol in 9mm is perfectly suited for duty, defensive, and competitive shooting.
In addition to this new model GunBuyer.com is making a limited number of custom variants with upgraded advanced PVD coated barrels for shooters looking for the best possible components
"We are happy to make the classic paddle magazine release 5" PPQ available. There are many loyal paddle release fans out there that have been requesting this variation of the PPQ." Said Walther Arms VP of Sales, Cyndi Flannigan.
Like the entire PPQ line, the new 5" Classic will feature the Signature Walther ergonomic grip and the best in class smooth quick defense trigger with short 0.1" reset for fast follow-up shots.
To learn more visit us online. www.gunbuyercustoms.com
About Walther
Walther is the premier provider of personal protection and recreational firearms of various calibers ranging from .22 to .45. With a vast devotion for continued innovation and customer focus in a fast growing industry, Walther Arms engineers products that are Built for Life. Follow and Subscribe to Walther Arms online: www.WaltherArms.com, www.facebook.com/WaltherArms, www.instagram.com/waltherarms/, www.twitter.com/waltherfirearms, and www.youtube.com/waltherfirearms.