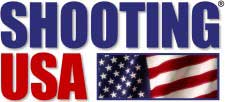 Nashville, TN -(AmmoLand.com)- This time, it's gun racing on historic targets at the World Speed Shooting Championship. It's been 35 years since Mike and Mike drew up the first Steel Challenge on a napkin. Now it is a tradition and remains a challenge to the top shooters in the handgun sports. John Scoutten breaks down the action from California. And, for the first time, the Pistol Caliber Carbine is allowed to compete!
Plus, eight-time Multi-Gun National Champion Sergeant Daniel Horner of the U.S. Army Marksmanship Unit shows us his AR training tips for 3-gun competition. Tune in Wednesday to Outdoor Channel.
AIR TIMES BY TIME ZONE
Eastern Time: Wednesday 3:00 PM, 9:30 PM, 1:30 AM (Thursday)
Central Time: Wednesday 2:00 PM, 8:30 PM, 12:30 AM (Thursday)
Mountain Time: Wednesday 1:00 PM, 7:30 PM, 11:30 PM
Pacific Time: Wednesday Noon, 6:30 PM, 10:30 PM
Shooting USA is listed as a one-hour show in your cable menu.
Watch Shooting USA on YouTube!
Subscribe to the Shooting USA YouTube Channel to watch this week's episode, Pro Tips, History's Guns, and more!
Be sure to "Like" Shooting USA on Facebook, and "follow" us on Instagram too.
About Shooting USA:
Jim Scoutten, AmericaÌs Most Watched Firearms Reporter, has been on the beat for 25 years, reporting the stories of the Shooting Sports and the firearms Industry. The show produces a series of popular segments focusing on historical guns, the personalities in the sport and industry, insider reports from gun tests, and practical tips from shooting sports pros. The show appeals to shooting sports enthusiasts of all ages and skill levels by providing practical tips on safely handling, modifying and repairing their favorite guns.
For more information, please visit www.ShootingUSA.com.