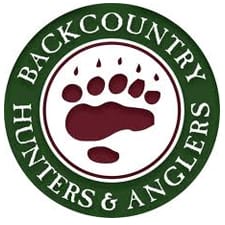 MISSOULA, Mont. –-(Ammoland.com)- In anticipation of National Public Lands Day, Sept. 30, Backcountry Hunters & Anglers today is kicking off a monthlong celebration of these iconic American lands and waters – and sending an uncompromising message from sportsmen and women regarding the importance of our public lands hunting and fishing traditions.
"As hunting seasons begin across the country, American hunters and anglers everywhere are taking a moment to appreciate our public lands and the irreplaceable outdoor experiences they give us," said BHA President and CEO Land Tawney. "As a way to honor those experiences – and to support what we believe in – we're declaring September public lands month.

"Get involved, and speak up for the places that make our outdoors traditions possible," Tawney said. "Send a message to those who would steal our lands and waters and deny us our outdoor heritage. I know what I believe in: Our public lands and waters."
BHA National Board Member Ben O'Brien, hunting marketing manager with YETI, issued a call to action – in the outdoors.
"I hope that every public land owner can celebrate this month by getting outside and exploring not only wild places but their relationship with the land and water we all share," said O'Brien. "Go hunting, fishing, biking, hiking, climbing or camping and share your journeys with everyone you can. It's a simple message of appreciation for what forms our national identity."
Along with other voices in the sportsmen's community, BHA consistently advocates for the conservation of North American public lands and opportunities for citizens to access and enjoy them. In the face of unrelenting efforts to seize, transfer or otherwise weaken the management of public lands and waters, BHA members from across the continent continue to stand strong in support of an invaluable outdoors legacy.
"My best days, and our country's best values, both are found within our vast public lands," said BHA National Board Chairman Ryan Busse, a Montanan. "Our shared ownership of these places and our freedom to explore them is uniquely American. Once we set foot upon this birthright, wealth, status, race, color, creed and orientation melt away, and we become one with our great country – on the same footing with every other citizen and inferior to none. There is no other equalizer like it on our planet!"
Throughout the month of September, BHA will be galvanizing sportsmen and women to take action for public lands. BHA events will be taking place across the country. BHA members are sharing videos celebrating these special places and what they represent; standout submissions that tag BHA could win public land owner gear. They can sign BHA's Sportsman's Pledge and add their voices to the thousands speaking up. They can update their Facebook profile photos to identify themselves as "public land owners." And through Sept. 30, they can take advantage of discounts on BHA merchandise.
Visit the BHA website to get 20 percent off merchandise orders and support public lands. Use coupon code "PUBLIC17" at www.backcountryhunters.org/store. All proceeds go toward BHA's work to #keepitpublic!
Backcountry Hunters & Anglers is the sportsmen's voice for our wild public lands, waters and wildlife.