Tom Claycomb reviews the Knives of Alaska Elk Hunter Knife agrees it is worth the investment.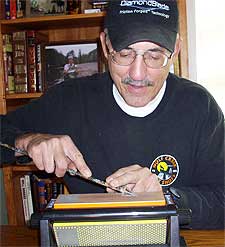 U.S.A. –-(Ammoland.com)- If you like a drop point knife you need to check out the Knives of Alaska Elk Hunter blade. It has to be one of the best quality, most affordable knives on the market. I conduct Knife related seminars from Texas to Alaska. A lot of these seminars are in the big shows but a lot of them are also in the big retail stores.
So, I get to watch people come into stores and ponder/decide which knife they're going to buy. I see them buy cheap weird designed knives all the time. I understand if you're as kid on a paper route budget but if you're a grown man and have a real job I'd really recommend that you spend a few more bucks and buy a decent knife that not only will last for a lot longer but it will also be a pleasure to use for years to come.
I always say if you're going to use a tool frequently then buy a decent one. You can get a well-made knife for less than $90.00. But with that said, just because you spend $90.00 doesn't mean you bought a good knife. You still have to do your research. There are a lot of cheap, weird designed knives. But there are also some wells made knives out there but, they're still weird designed. So you have to do your research. Make sense?
So with that said, it puzzles me or maybe frustrates me to see people just walk in a store and randomly buy any random knife. That basically forces the good knife companies to either cheapen their knives to compete or go out of business and then we as outdoorsmen complain about the quality of American made products.
So, with all of the above said it is going to cost somewhere around $90.00 to get a well -made, well designed American made knife. If you like a drop point knife, the KOA Elk Hunter fits the bill. It has a 3 ½-inch blade which is the perfect size for skinning big game animals.
It also has a full-sized handle which is imperative so as to have solid control of your knife. A few years ago a lot of companies were making shorter handled knives with no grips. I guess it was the rage to save .0001 ounces. When it's freezing cold and my hands are wet and slippery I want a firm grip on my knife. If you want to save on weight maybe you could just skip wearing a pair of underwear or something to make up for the weight of the handle. Being serious, I want to use a knife that I can control. It's the only safe way to go.
The Knives of Alaska Elk Hunter blade is made out of D2 steel which is hard enough to hold an edge for a good period of time but is still plenty easy to sharpen. I've grown fond of knives made out of D2 steel. Like I say, it is a semi hard knife and yet I can sharpen it is 2-3 minutes with my Smith's Products fine diamond stone.
It comes with an American made, vegetable tanned, oiled, split grained cowhide sheath which is dark and a good-looking sheath. Like with all of your knives, when you're done for the day clean the blade, wipe down and let it dry before storing it in the sheath.
The knife is named the Elk Hunter but it is a great knife to skin anything from an antelope on up to a moose. So, as we close, this is a good knife to consider for all of your North American hunting needs.
Knives of Alaska Elk Hunter Knife SPECS:
Metal D2
Rockwell Hardness 59-61
Bevel 18-20 degrees
Knife Length 8.25"
Blade Length 3.25"
Wt. 4.5 oz.
$125.00 ( cheaper $$ online )
About Tom Claycomb
Tom Claycomb has been an avid hunter/fisherman throughout his life as well as an outdoors writer with outdoor columns in the magazine Hunt Alaska, Bass Pro Shops, Bowhunter.net and freelances for numerous magazines and newspapers. "To properly skin your animal you will need a sharp knife. I have an e-article on Amazon Kindle titled Knife Sharpening for $.99 if you're having trouble"