U.S.A. –-(Ammoland.com)- Optics are not fully modular between rifles- scopes must be re-zeroed if swapped between rifles. Since constant re-zeroing wastes precious range time and ammo, rifle shooters purchase (often similar) optics slaved to each rifle, an extremely costly endeavor when using quality optics.
Our patent pending windage and elevation adjustable M-Zero Scope Mount stores the unique zero of a rifle in its picatinny rail. By setting a common zero between rifles and optics, shooters can swap components freely as their needs change.
Start with zeroing both optics to Rifle 1. Then attach the M-Zero to rifle 2. Next mount either optic to Rifle 2's M-Zero. Finally, zero the M-Zero scope mount. Now, both optic can be attached to either rifle without the need for re-zeroing.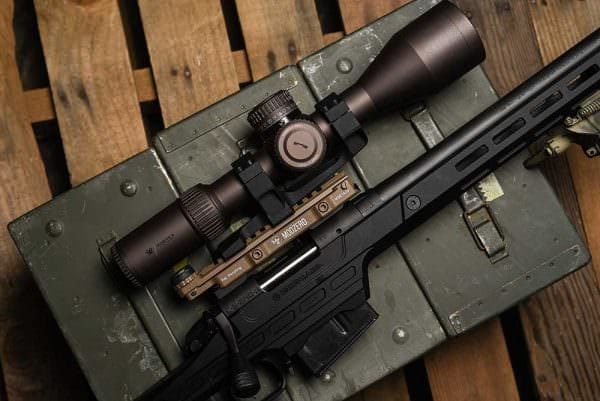 We also have a customizable ballistic dial built into the elevation dial. The basic application is range adjustment independent of attached scope. Other applications include ammunition variations, barrel/caliber swapping, and suppressor use. The ballistic dial is still in development. Range adjustment prototyping has been successful.
Indiegogo allows us to gauge the market and setup manufacturing accordingly. The established platform is an added protection for our backers in comparison to hosting our own preordering system.
We ARE NOT crowd funding our product development. We are on our 3rd iteration prototype with thousands of hours of engineering/design from a talented team. Final prototypes have passed initial accuracy testing.
People usually say, "But you're adding weight and height." Yes. Weight is .45 lbs. Height is 0.6 inches. Online these can seem like big numbers, but most people behind the gun have no problem with either factor.
About the Founder of Mod Zero
Hi! I'm the founder of Mod Zero and the inventor of our product. I'm 21 years old and in my final year of college. I study Materials Science at Penn State University but am taking my final year of classes at MIT. I'm a 'youngin' but have been shooting since 12 in various competition disciplines. College put a temporary stop on competition shooting, but not my interest in shooting and firearms. Two years ago I was considering buying my first ACOG, but I couldn't commit to paying the large price tag to use it on just one of my rifles. I wanted to be able to share it between my rifles and it had to be as easy as picking the scope & rifle from the safe, attaching, and being ready to go. Rather than buying that ACOG I came up with the idea of the M-Zero Rail and a Common Zero. After thousands of hours of design, engineering, research, testing, pitching and much more, my team and I are ready to launch.