Mike Searson reviews the tactical combination edge blade of the Spyderco Tenacious G-10 Knife.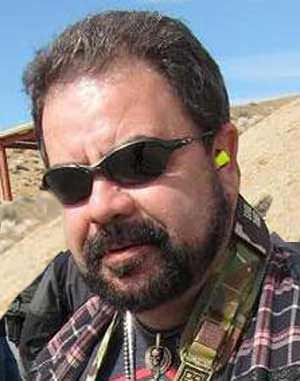 U.S.A. –-(Ammoland.com)- One of my favorite knife companies is Spyderco. The Colorado based manufacturer has made massive contributions to the cutlery industry since founder and CEO Sal Glesser began selling knife sharpeners out of an old bakery truck nearly 40 years ago.
Even if you do not carry a Spyderco knife daily if your pocket knife features a pocket clip, serrations or an opening hole, you can thank Spyderco for that.
While we favor their knives made in collaboration with custom knife makers or based on traditional ethnic designs, there is a lot to be said for their base model knives.
One notable design is the Spyderco Tenacious G-10 Knife.
The Spyderco Tenacious has a blade with a black finish and a partially serrated edge. The 8Cr13Mov stainless steel blade is flat ground and leaf-shaped. We were glad to see the use of an over-sized Spydie Hole coupled with textured spine jimping to really give you a good grip when you're working on a small or large cutting task.
Black G-10 laminate handles cover the skeletonized steel liners making for a solid and rigid combination without making the knife too heavy or bulky. The Walker liner lock is jimped as well, allowing you to easily index the liner by touch to close it safely.
Best of all is that the liners are threaded to allow 4 possible configurations for clip placement. So if you are left handed, right handed or prefer tip up to tip down carry or vice-versa, Spyderco has you covered on all four bases.
Spyderco Tenacious G-10 Knife – Tip-up or Tip-down
Aligning the knife in your pocket is all a matter of personal preference and too many custom makers as well as production companies only give you one option. To go from left to right or tip up to tip down carry requires having the handles drilled and tapped. We love it when companies like Spyderco let us "choose your own adventure" with regard to clip placement.
Most tactical knife users prefer tip-up carry. As the hand reaches for the blade it is properly aligned and can be opened on the draw with the thumb hole, disc, stud or Emerson's Wave Shaped Opening Device.
Some knife companies, as well as custom makers, frown on this as the knife can partially open in the pocket and potentially cut the user when they reach for their knife or otherwise nonchalantly stick their hand in the same pocket. As a result, they fashion their knife clips for tip down carry. This gives some folks the impression of "slowing down the draw stroke".
With Spyderco knives, I've found either way faster and in my younger days, when that was the only option that they offered, we got fast at deploying knives by grabbing them by the opening hole on the blade and flicking the handle back into your hand. There are a few old-school combat instructors that still prefer this method.
Spyderco Tenacious G-10 Knife – The Blade
Some people love serrations, some people hate them. Yes, we have heard arguments from both sides of the fence that serrations can help you start a tough cutting project or are always there when you need them to the other side like "a properly sharpened knife does not need serrations".
There is truth to both sides of that argument and it all comes down to personal preference. However, when it comes to Spyderco's knives, they produce some of the best serrations in the business.
The steel on the Spyderco Tenacious G-10 Knife may not be the best out there. The Chinese made Cr steels are not known for having a lot of carbide content and can be prone to rust. The blackened blade and partial serrations take care of both of those issues nicely and the use of 8Cr13Mov stainless steel keep the price down to a reasonable level.
Online prices seem to be half of the MSRP if you shop around.
Spyderco's Tenacious represents great value in an EDC knife. As a collector and daily knife carrier, I rotate my carry knives out semi-frequently. For some reason, the Tenacious kept making it back to my pocket.
The knife can be ordered in a number of combinations with either a plain edge or serrations and in stainless or black coated.
There is a lot to be said for sticking to simplicity.
Overall Length: 7.76″
Blade Length: 3.39″
Steel: 8Cr13MoV
Closed Length: 4.45″
Edge Length: 3.39″
Weight: 4.1 oz
Blade Thickness: 0.118″
Handle material: G-10
Clip Position: Ambi
Tip CarryPosition: Tip-Up/Down
Lock Type": LinerLock
Grind: Full-Flat
MSRP $69.95 ( much less $$ online )
About Mike Searson
Mike Searson's career as a shooter began as a Marine Rifleman at age 17. He has worked in the firearms industry his entire adult life as a Gunsmith, Ballistician, Consultant, Salesman, Author and was first certified to teach firearms safety in 1989.
Mike has written over 2000 articles for a number of magazines, websites and newsletters including Blade, RECOIL, OFF-GRID, Tactical Officer, SWAT, Tactical World, Gun Digest, Examiner.com and the US Concealed Carry Association as well as AmmoLand Shooting Sports News.
Home page: www.mikesearson.com
FB: www.facebook.com/mike.searson
TWITTER: www.twitter.com/mikesearson