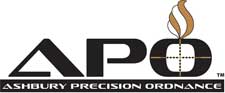 Ruckersville, VA. –-(Ammoland.com)- Ashbury Precision Ordnance Mfg (APO) America's leading innovator of custom chassis based precision rifles for recreational, hunting, and multi-sport competition and tactical shooting has designed an incomparable hands-on long range RifleSports experience for Cabela's CLUB Visa Black and Silver card members for 2018. THE ASHBURY EXPERIENCE is an exclusive four-day, four-night RifleSports premium adventure conducted at Ashbury's central Virginia factory and private mountaintop shooting range in the beautiful Blue Ridge Mountains.
THE ASHBURY EXPERIENCE is an exclusive four-day, four-night RifleSports premium adventure conducted at Ashbury's central Virginia factory and private mountaintop shooting range in the beautiful Blue Ridge Mountains.

"This exclusive APO Experience is designed for sportsmen & women that aspire to establish and improve their precision rifle marksmanship skills, with an accurized centerfire rifle that members take pride in personally building and taking home," said Matthew Peterson, Ashbury's Product Development Coordinator. "This one-of-a-kind, hands-on, precision rifle building experience and long-range field marksmanship activity is crafted especially for Cabela's CLUB members by the RifleSports specialists at Ashbury Precision Ordnance Manufacturing. The experience is presented in a Virginia 'country comfortable' style and setting. Think of this as a 'bucket list' firearms experience for true firearms enthusiasts."
Developed as an "immersion" RifleSports experience, guests will begin their RifleSports adventure at the NRA National Firearms Museum in Fairfax Virginia for a private curator's tour of the numerous firearms galleries. From there guests will then be transported to the Ashbury facility to individually build and customize their own SABER M700 Precision Rifle chambered in .308 Win or 6.5 Creedmoor, each outfitted with a premium Leupold VX6 HD rifle scope and select accessories. There, guests work under the tutelage of APO's Veteran U.S. Marine Corps 2112 Gunsmith and 2111 Armorer, who lead APO's Precision Weapons Section, building the very rifle they'll use in training over the coming days.
Field marksmanship training in THE ASHBURY EXPERIENCE is conducted by an experienced APO firearms instructor team composed of Veteran U.S. Army Sniper and Marine Corps Scout Sniper Instructors, NRA certified instructors, extreme long range shooting specialists, competition rifle shooters, gunsmiths, armorers, and shooting coaches. Departing the Ashbury facility, guests will then travel further into the Blue Ridge Mountains of Central Virginia to actively participate in live-fire, precision-rifle marksmanship training to instill skills shooting reactive, moving steel targets and "game steel" out to distances of 1,000 or more yards. All high-quality range equipment, observation optics, down range cameras, match grade ammunition, and even night vision and thermal imaging equipment for a night shoot is provided.
THE ASHBURY EXPERIENCE is highlighted by premium mountain bed and breakfast lodging, sumptuous meals and evening dinners with chef prepared "forest-to-fork" wild game cuisine. Dinners are inspired by Virginia artisan farmers, bakers, and high-quality wild game purveyors paired with hand-select, rich, full-bodied California and Virginia wines. After dinner cordials, fireside talk of hunting and shooting abound with internationally experienced firearms professionals.
For more information on Cabela's CLUB Experiences and THE ASHBURY EXPERIENCE please visit this link.
Ashbury International Group Inc. is a central Virginia USA based company, having more than 20 years of international experience now serving the commercial shooting sports community, and formerly the US government, DOD, and special operations forces (SOF).
Ashbury Precision Ordnance Mfg. (APO), a division of the Ashbury International Group Inc. is a BATFE licensed 07/11/SOT commercial firearms and shooting accessories manufacturer. APO manufactures high quality SABER bolt action receivers and our patented modular rifle chassis systems for factory production and custom bolt action rifles. APO manufactures recreational, hunting, multi-sport competition and tactical precision rifles in calibers from .223 Rem, to .408 Cheytac. The APO Custom Shop offers custom reflex sight installation on premium pistols and complete special order custom precision rifle and pistol builds for discriminating clients.
APO manufactures a line of high quality rugged electro-optical weapon mounts, and TACT3 field tripods. The company also manufactures and distributes a wide range of rifle sports accessories to include mounts, TACT3 Tripods, Ruag Swiss-P ammunition, Field Firing Solutions (FFS) ballistic software, RSTA-II Tripod Shooting System, Long Range Accuracy Bipods, and Snipers Field Tool Kits. THE ARMORY.
The Rapid Product Development Center (RPDC) provides engineering design and prototyping services. The engineering services group is Solidworks CAD based with Simulation FEA and FeatureCam CAD/CAM machine programming software, 3D Printer-Fused Deposition Modeling (FDM) capable, a modern CNC precision machining shop and an experienced, well trained staff.