Mike reviews the recently released Smith & Wesson SW22 Victory Pistol with the silencer compatible threaded barrel option.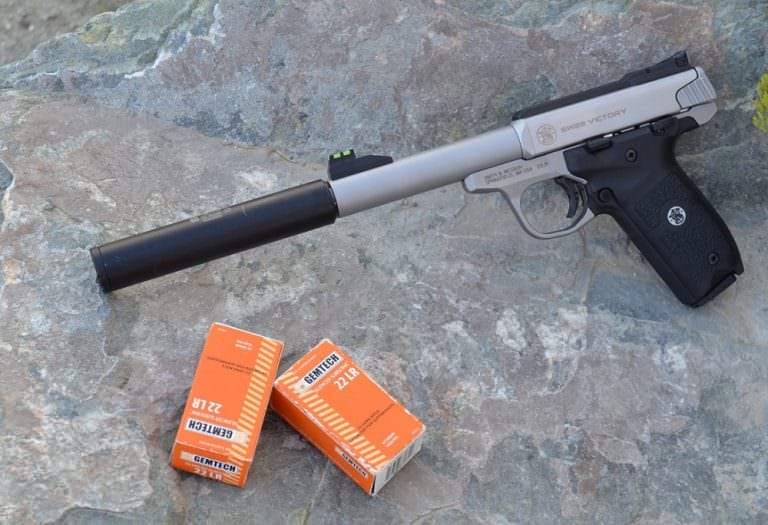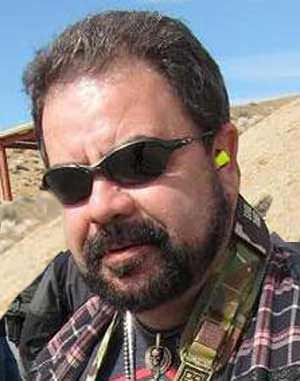 U.S.A. –-(Ammoland.com)- I have been a fan of Smith & Wesson firearms for as long as I can remember. At last count I have 30 of their revolvers in my safe and 5 of their semiautomatic pistols.
Two of those semiauto pistols (Model 52-2 and a Model 41) are the most accurate semi autos that I own and many of my students who were first-time shooters fired them as they are great confidence builders for new people.
So then I laid eyes on the new Smith & Wesson SW22 Victory Pistol Threaded Barrel model. At first glance it reminded me of the classic 22 pistols of yesteryear. There were hints of the Browning Buck Mark, the lines of the High Standards, Colt Woodsman but the grip was unmistakably Smith & Wesson 22A. Finished in stainless steel, topped with fiber optic sights and crowned with a threaded barrel; this piece had shooter written all over it, but there was more than meets the eye with the S&W Victory 22.
Smith & Wesson SW22 Victory Pistol – The Good
The bane of 22 Target pistols is often in their disassembly and reassembly. Smith & Wesson solved that by making the Victory not only easy to tear down and put back together, but to allow the end user to customize it.
Should you move or travel to a state where the threaded barrel turns your favorite 22LR plinker into a death spewing assault pistol? You can change out to a non-threaded barrel. If you need a longer barrel for hunting or competitive use, it's as easy as turning the Allen wrench. You can remove the rear sight and add a top rail for your favorite red dot if you so desire and the rear of the rail functions as a back up rear sight.
That's the fun factor you get after opening the box, the real fun starts when you hit the range with the Smith & Wesson SW22 Victory Pistol.
We tried the pistol suppressed and unsuppressed. Using a Gemtech Outback IId with a GM-22 monocore upgrade with Gemtech's subsonic ammunition we found the pistol to be reliable in both modes. The magazines were flawless and dropped free every time we hit the release. We tested the trigger on an RCBS trigger pull scale and it was a crisp and repeatable 3 pounds. The face of the trigger is serrated.
According to Gemtech, this suppressor will lower noise at the muzzle by 36-39 decibels. That may not make it the quietest on a sound meter test, but the Outback with the monocore upgrade like the GM-22 by Gemtech has a deeper tone that makes it sound more appealing to my ears. This could explain why most people seem to think it is quieter than what the sound meter reads. With the Gemtech ammunition and no can, the pistol metered at an average of 153 Db. With the silencer added is came in at 117 Db on average. This is a similar sound level as a police siren for a microsecond impulse.
Most importantly were the sub MOA groups at 20 to 25 yards that we shot with the Victory 22. The Smith & Wesson SW22 Victory Pistol was so accurate that we plan to purchase one of our own.
At 1/3 the price of a S&W Model 41 we found it to be its equal at close range. Pushing it out to 50 yards, we found the S&W Model 41 to be its superior.
Smith & Wesson SW22 Victory Pistol – The bad
Although the pistol appears to be very modular there are very few parts and accessories available from Smith & Wesson apart from what you can attach to the included top rail in the form of optics.
Volquartsen makes several barrels including one made from carbon fiber and several others with compensators. It's a fairly new pistol so we hope to see the line expand in the future. TANDEMKROS makes a few SW22 accessories as well.
Some shooters have reported issues with Smith & Wesson making the hex nuts for takedown too tight or going too heavy on the red Loctite. If you cannot budge it, throw some heat on it. When you replace it have some blue Loctite handy.
Smith & Wesson SW22 Victory Pistol – The Reality
Having owned a S&W Model 41 for years, we often overlooked the less expensive 22 pistols from Smith & Wesson, particularly when we saw no barrel threads and our Model 41 was threaded by Accurate Ordnance a few years back.  The accuracy is nothing short of amazing and while some may not care for stainless steel firearms, we feel this one has a nice finished and clean look.
Our only question was why Smith & Wesson brought back the name "Victory" for a stainless steel target pistol. Years ago the Victory Model was a 38 caliber wheel gun that Smith & Wesson made for the War effort in the 1940s for our troops and our allies in Great Britain and New Zealand. Each revolver's serial number was preceded by a "V" for "Victory".
Perhaps this model is named the Victory for all the potential rimfire matches wherein it could emerge as the winner.
Smith & Wesson SW22 Victory Pistol Specs
Caliber: 22 LR
Capacity: 10 Rounds
Action: Single Action
Barrel Length: 5.5"
Weight: 36 oz.
Overall Length: 9.2"
Overall Width: 1.1"
Overall Height: 5.6"
Frame Material: Stainless Steel
Bolt Material: Stainless Steel
Barrel Material: Stainless Steel
Finish: Satin Stainless
MSRP: $429
---
22plinkster: Smith & Wesson Victory Review
About Mike Searson
Mike Searson's career as a shooter began as a Marine Rifleman at age 17. He has worked in the firearms industry his entire adult life as a Gunsmith, Ballistician, Consultant, Salesman, Author and was first certified to teach firearms safety in 1989.
Mike has written over 2000 articles for a number of magazines, websites and newsletters including Blade, RECOIL, OFF-GRID, Tactical Officer, SWAT, Tactical World, Gun Digest, Examiner.com and the US Concealed Carry Association as well as AmmoLand Shooting Sports News.