Mike Searson reviews two Ed Schemp designs from Spyderco: the Spyderco Schemmp Bowie Knife and Spyderco Euro Edge Knife.
U.S.A. – Ed Schemmp is an ABS (American Bladesmith society) Mastersmith whom we have known for decades. In addition to his high-end custom forged pieces he is one of the top designers at Spyderco and the pairing between the maker and the manufacturer has allowed his designs to be more affordable to the masses.
We took a look at two of them: the Spyderco Euro Edge Knife and the Spyderco Schemmp Bowie Knife . We chose these two in particular because they reflect the two types of test knives that ABS uses to judge a Mastersmith: A European dagger and a Bowie knife.
While not popular as a carry knife in many locations due to its double edge, the dagger has always been our favorite knife design. As part of Spyderco's Ethnic Series of knives, the EuroEdge was designed by Ed Schempp in a single edge format that retains the symmetrical aesthetics of a true dagger. Schempp performed countless hours of dedicated research the finest museums of Europe to get this one right. He did so, right down to the fullers.
Fullers are often misnamed as blood grooves as urban legend has it that they allow blood to flow in them to keep the blade from sticking in its quarry. This is simply not true. They are meant to lighten the blade and a proper fuller can lighten a sword blade as much as 35% without compromising structural integrity. On knife blades it is less important, but medieval daggers were quite a bit longer than most knives as we know them today.
These fullers are bead blasted in order to contrast with the satin finish of the blade flats and they give the knife a very dramatic look on both sides of the blade.
The blade of the EuroEdge is ground from CPM S30V particle metallurgy stainless steel. Opposite the cutting edge is a long swedge and Spyderco's Trademark Round Hole allows for quick, positive, one-handed opening.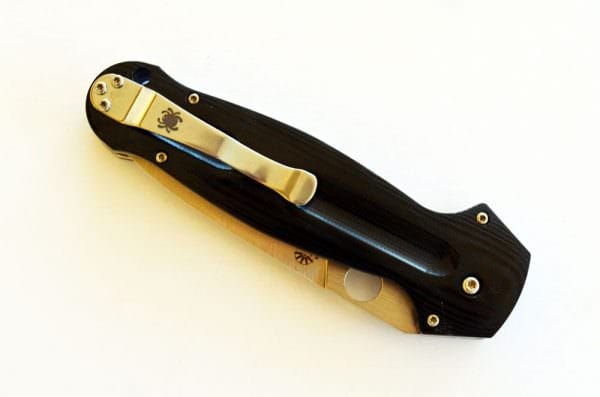 Handles are polished, 3-D-machined G-10 scales that complete the look by sporting feature fullers as well. Liners are stainless steel, which we are finding to be superior to Titanium liners for a number of reasons, mostly to do with lock wear. Titanium may be lighter and stronger, but the different hardness between it and most blade steels mean that one side will wear out quicker sooner or later in a Walker linerlock as opposed to steel on steel.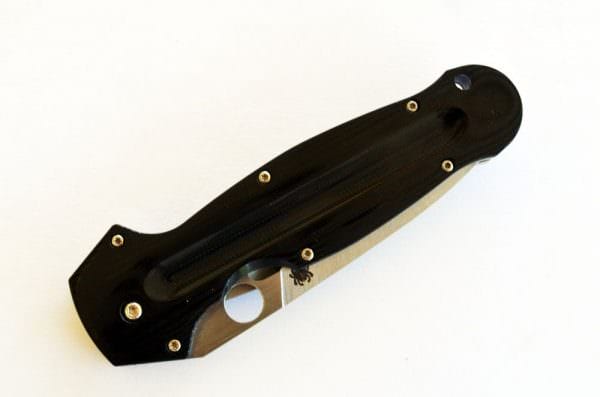 We made the Spyderco Euro Edge Knife our carry knife for a few months and did not want to change it out for yet another test knife when it's rotation time was up.
Spyderco Euro Edge Knife Specs:
Overall Length: 8.99″
Blade Length: 3.92″
Steel: CPM S30V
Closed Length: 5.07″
Edge Length: 3.57″
Weight: 6 oz
Blade Thickness: 0.157″
Handle: Polished G-10
Clip Position: Right
Tip Carry Position: Tip-Up
Lock Type: Walker LinerLock
Grind: Dagger
Origin: Taiwan
MSRP: $369.95 (cheaper online)
---
If you were expecting stag handles and a 14″ blade forged in Arkansas, you are thinking of the wrong knife. Ed Schempp has probably made more Bowie knives as a custom maker than nearly anyone else, with the Spyderco Schemmp Bowie Knife he redesigned it as a modern, high-performance folding knife meant for pocket carry while maintaining the key elements of the historic knife.
The CPM S30V powdered metallurgy stainless steel blade retains the broad profile, long belly, flat grind and concave clip point with its distinctive swedge screams nothing but Bowie. Like all of Spyderco's folding knives, the Trademark Round Hole is right where you need it to effortlessly open the knife.
Like the EuroEdge, the Schempp Bowie sports full stainless steel liners. The traditional coffin shaped handle material is carbon fiber/G-10 laminate finished with brass bolsters that incorporate an integral double guard. A solid stainless steel back spacer rounds out the construction. The locking mechanism is a Walker Linerlock.
The blade has a cant to it that seems unusual when you first see it, much less open it. Upon further examination, the coffin shaped handles have a dropped angle as well. Both of these can be seen in some of Schemmp's earlier custom designs and were designed for cutting competitions and based on his personal experience as a wheat farmer. According to Spyderco, this allows a natural wrist angle during use. It shortens the blade's opening arc, increases cutting power, reduces fatigue and instinctively orients the point with the axis of the forearm.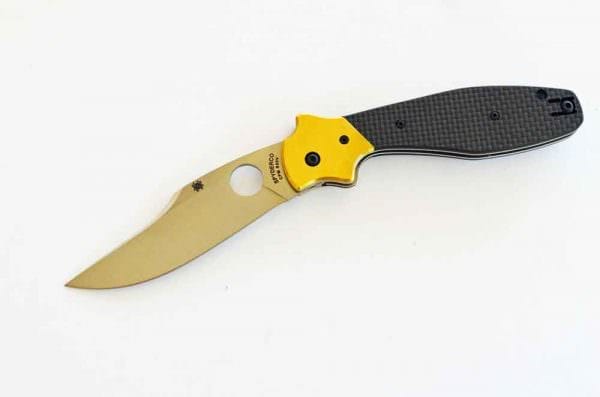 Despite hearing this from a number of other knife makers, we were skeptical of the canted blade, until we tried it out for ourselves. It performs as advertised, particularly when you need a powerful swing to make a cut.
Our only concern with the knife is that we are often hard on our gear and dread the day we scratch one of those brass bolsters. However, we have yet to do so.
Spyderco Schemmp Bowie Knife Specs
Overall Length: 8.45″
Blade Length: 3.72″
Steel: CPM S30V
Closed Length: 4.73″
Edge Length: 3.44″
Weight: 4.6 oz
Blade Thickness: 0.098″
Handle: Carbon Fiber/G-10 Laminate w/ Brass Bolster
Clip Position: Ambi
Tip Carry Position: Tip-Up
Lock Type: Walker LinerLock
Grind: Flat
Origin: Taiwan
MSRP: $299.95 (cheaper online)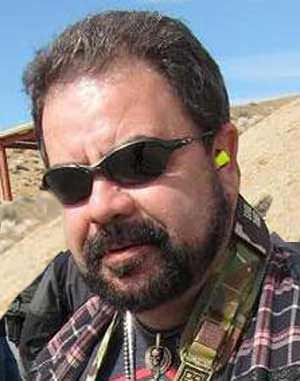 About Mike Searson
Mike Searson's career as a shooter began as a Marine Rifleman at age 17. He has worked in the firearms industry his entire adult life as a Gunsmith, Ballistician, Consultant, Salesman, Author and was first certified to teach firearms safety in 1989.
Mike has written over 2000 articles for a number of magazines, websites and newsletters including Blade, RECOIL, OFF-GRID, Tactical Officer, SWAT, Tactical World, Gun Digest, Examiner.com and the US Concealed Carry Association as well as AmmoLand Shooting Sports News.