Mike reviews the TriStar Cobra Force Pump Shotgun to find out if it is a true bargain or as the old saying goes, do you get what you pay for?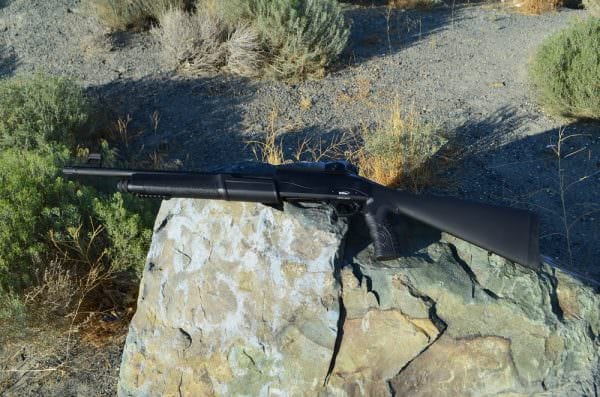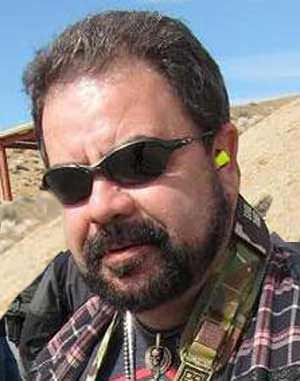 U.S.A. –-(Ammoland.com)- A pump action shotgun is often the first firearm most folks look to for self-defense and we tried out an interesting one by TriStar known as the Cobra Force. It is made in Turkey, where there is a history of capable shotgun manufacturing at a reasonable price.
It may not share the traditional profile of a pump shotgun that most folks are familiar with, but has a pistol gripped stock similar to the Benelli M1, a matte-black finish, 20″ barrel and is can handle 2 3/4″ as well as 3″ shells.
We assume it can handle the Aguila mini shells but were unable to try this out.
TriStar Cobra Force Tactical Shotgun
TriStar Cobra Force Pump Shotgun – The Good
Examining the fit and finish on the Cobra Force revealed a well-built scattergun. Picatinny rails adorn the top of the receiver the underside of the fore-end. This gives you options for mounting lights, lasers, scopes, red dot sights and anything that makes you a better shooter or improves your firearm for your conditions.
It uses a removable choke system that uses Beretta Mobile threads and ships with one extended choke tube for Cylinder Bore as well as a choke box and choke wrench. This is something we wish American shotgun makers would include on all of their factory shotguns as chokes; even on short barreled shotguns to make your shotgun more versatile.
The TriStar Cobra Force Pump Shotgun's barrel is chrome lined, which makes a lot of sense on a tactical shotgun.
The trigger pull came in at 5 pounds, which we liked a lot. This is another area where we get left in the lurch by US shotgun makers at times and we were glad to see someone take notice and address this shortcoming.
Ghost ring sights are installed at the factory. We definitely prefer these to brass beads unless we are shooting birds or clays. The fiber optic front sight can be picked up rapidly and it tends to make for a more accurate shooter. Using a weapon mounted light with a good throw on the forend will really light it up in the darkness as opposed to tritium which will wash out in conjunction with a light.
We like the pistol gripped stock and so will other shooters who learned on ARs, M16s, AKs, etc. Shooters who grew up shooting trap, skeet, sporting clays and are used to a more traditional buttstock will have a bit of a learning curve here but will be able to swing their gun with the best of them once they get it down.
Not all is a learning curve. The safety is located at the top rear of the trigger guard as it is on the Remington family of shotguns.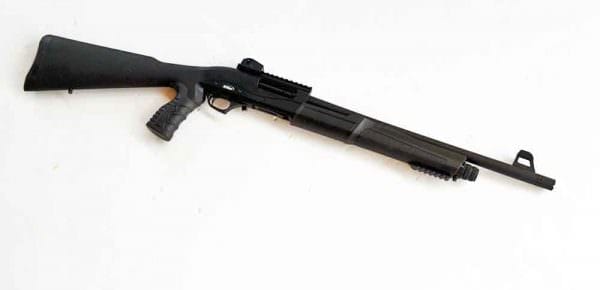 One feature we really liked about the TriStar Cobra Force Pump Shotgun is that the forend has a return spring. After firing the shotgun and pulling the forend rearward it ejects the spent shell like normal. The return spring acts as an assist to close the action and chamber a fresh shell. Reloading speed is definitely improved and it made for great fun while blasting clays and shooting targets while on our own.
However, we can see a problem with this which we will address in the next section.
TriStar Cobra Force Pump Shotgun – The Bad
The return spring in the forend can present problems if you find yourself shooting at an organized range or participating in a match as there is no way to lock the action open and show clear to a Range Safety Officer (RSO) or to simply leave it on the bench while other shooters go downrange to check targets.
It's not all bad news, though, this spring can be removed and you still have a very capable pump shotgun in your hands.
The only other downside is that its Uber tactical look may prohibit its use for hunting in some places or at least draw odd looks from the Deer Camp crowd.
TriStar Cobra Force Shotgun – The Reality
The TriStar Cobra Force shotgun represents a real value to the shooter in its build quality and performance. We found it is loaded with custom features while keeping the MSRP at around $400.
TriStar Cobra Force Specifications
Gauge: 12
Action: Pump
Barrel Length: 18.5″
Capacity: 5+1
Chamber: 3″
Choke Configuration: Mobilchoke
Finish: Blued/Black
OAL: 40.5″
Recoil Pad Type: Rubber
Safety: Crossbolt
Sights: Fiber Optic Front, Ghost Ring Rear
Weight: 6.5 lbs
MSRP: $400
---
NUTNFANCY: $240 Home Defense Shotgun: TriStar Cobra Force
About Mike Searson
Mike Searson's career as a shooter began as a Marine Rifleman at age 17. He has worked in the firearms industry his entire adult life as a Gunsmith, Ballistician, Consultant, Salesman, Author and was first certified to teach firearms safety in 1989.
Mike has written over 2000 articles for a number of magazines, websites and newsletters including Blade, RECOIL, OFF-GRID, Tactical Officer, SWAT, Tactical World, Gun Digest, Examiner.com and the US Concealed Carry Association as well as AmmoLand Shooting Sports News.