MISSOULA, Mont. -(Ammoland.com)- The Boone and Crockett Club today applauded the action of organizations and companies that have chosen to say "no more" to African captive-bred lion shooting.
The recent announcement made by the Professional Hunters' Association of South Africa (PHASA) on November 22 that they had adopted a new constitution that accepts the practice of captive-bred lion "hunting" has left founding PHASA members, organizations, and sponsors disappointed, furious, and distancing themselves from this once-leading industry organization.
The Operators and Professional Hunting Associations of Africa (OPHAA) said in a press release, "The practice of captive-bred lion hunting inevitably brings the entire African hunting industry, in every African nation where hunting is permitted, into ill repute. PHASA's actions completely disregard one of the fundamental concepts of hunting, namely fair-chase…" OPHAA has indefinitely suspended its membership to PHASA. The Wild Sheep Foundation, BookYourHunt.com, Sports Afield magazine and global travel insurance provider, RipCord, have canceled their affiliation and sponsorship of the organization.
"It's time to draw a hard line," said Boone and Crockett Club President Ben Hollingsworth Jr. "Breeding lions or any wild animal to be shot in a bogus situation is not hunting, not good for the future of hunting, should not be passed off as hunting, and people should not confuse it with hunting."
The concept of fair chase referenced by OPHAA was originated and popularized by the Boone and Crockett Club in the late 1800s as a conservation ethic for sportsmen – defining it as the ethical, sportsmanlike, and lawful pursuit and taking of any free-ranging wild, native North American big game animal in a manner that does not give the hunter an improper advantage over such animals. The Club has long opposed canned "hunting" in North America as a violation of the principles of fair chase and an affront to the time honored traditions of hunting.
"Although the Club's focus is on wildlife conservation in North America, we are pleased that fair chase has become a universal concept among sportsmen throughout the world." explained Hollingsworth Jr. "The power of fair chase is that it is based on doing what is honorable and appropriate, and this applies to ethical hunting anywhere. Just because an organization makes the statement that captive-bred lion shooting is "legitimate" hunting, does not make it so. This flies in the face of the ethical standards sportsmen have carried with them for more than 100 years."
Canned shoots should be of great concern to all sportsmen and sportswomen, not only as a matter of doing right by the game we hunt, but because those who do not hunt confuse the activity with ethical fair chase hunting-a gross misconception that undermines public support for hunting.
"Remaining quiet and looking the other way is not in the spirit of fair chase or the Club's founder, Theodore Roosevelt," Hollingsworth Jr. concluded. "We tip our caps to these organizations and companies who are doing the exact opposite."
To learn more about fair chase, visit www.huntfairchase.com.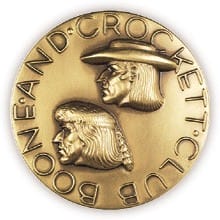 About the Boone and Crockett Club:
Founded by Theodore Roosevelt in 1887, the Boone and Crockett Club promotes guardianship and visionary management of big game and associated wildlife in North America. The Club maintains the highest standards of fair chase sportsmanship and habitat stewardship. Member accomplishments include enlarging and protecting Yellowstone and establishing Glacier and Denali national parks, founding the U.S. Forest Service, National Park Service and National Wildlife Refuge System, fostering the Pittman-Robertson and Lacey Acts, creating the Federal Duck Stamp program, and developing the cornerstones of modern game laws. The Boone and Crockett Club is headquartered in Missoula, Montana. For details, visit www.boone-crockett.org.