Kevin Reese reviews the CBC Industries CY6 6.5 Grendel Rifle. CBC Industries accepted the challenge of building a hard-hitting, do-it-all AR-15, and succeeded.
U.S.A. –-(Ammoland.com)- While the miles of living between my Marine Corps service and sitting down to write this have been long and many. Like the force, my esprit de corps and steadfast hold on many of the Corps' teachings are strong. Among many life lessons learned as a young Marine, one of the most poignant was to "cover your six", also often referred to as CY6. The six in all this simply means ass. The symbolism is known throughout the Marine Corps and, I suspect, throughout every other branch of military service. If you want to thrive, or just survive, you've got to keep it covered.
I suppose CBC Industries thought of this when they accepted my challenge to build a do-it-all CY6 6.5 Grendel AR-15. In the modular world of AR assembly, it's always refreshing to run into a producer hell bent on manufacturing. Moreover, in a landscape littered with elite or outright overpriced rifle systems, companies devoted to us little guys always strikes a chord in my little black heart. CBC Industries just happens to be one of those companies so I was anxious to challenge them to build a rock-solid, multi-tasking beast slayer chambered in 6.5 Grendel… and make it affordable!
CY6 6.5 Grendel : Surviving or Thriving?
At first blush, the news is good. CBC Industries' new CY6 6.5 Grendel felt good right out of the box. From the moment my FFL handed the CY6 over to me, I've been impressed with both the look and feel of this rifle. The CY6's foundation lies in its precision-forged 7075-T6 upper and lower receivers and NiB-coated bolt carrier group (BCG). To meet my demands for a rifle capable of hammering hogs at close range then stretching out to 750 yards with long-range MOA accuracy, they employed a precision-turned 18-in. 4150 CrMo threaded CBC Nitride barrel with 1:8 twist and an interesting, albeit concerning CBC Linear Compensator.
Rounding out fit and form, CBC chose a SOPMOD 6-position stock for the wider comb and a more comfortable cheek weld. The stock also boasts a small storage compartment and flush-cup QD sling mounting position. CBC also installed their own CBC Ergonomic Grip with molded finger grooves and their lightweight yet aggressive free-floating, 15-in. precision-machined CBC Gen III rail, complete with a full-length top rail, M-Lok system and additional accessory rails located forward at three, six and nine o'clock positions; an additional accessory rail is located in the rear, again at six o'clock. The build also includes a low-profile .75-in. gas block and mid-length tube.
The build quality was evident. Where many AR manufacturers seem to disregard tolerances, leaving owners and their rifles a bit rattled (see what I did there?), CBC's tolerances appear to be exacting; I've yet to experience the sloppiness that sometimes comes standard in rifles from other producers at CBC's price points.
The CY6 is tight… in a good way. I appreciated the resistance and smooth fit of the take-down pins, rock solid free-floating rail and fluid feeling of the charging handle and bolt carrier group riding back and forward; even slamming the bolt home felt solid.
She's a Shooter!
My time at the HOTSA shooting range in Wortham, Texas (known-distance – meters) with the CY6 included several shooting applications – sight-in, close to mid-range targets, long-range precision, and thermal hunting setup. As a result, I cycled through three optics. For sight-in and close to mid-range shooting, I utilized a Sightmark Core TX 1-4×24. While Core TX model scopes are designed specifically for .223 and .308 ballistics, I also know I love the optic and it's ability to illuminate. It is a well-designed reticle. With this optic, I've consistently been able to shoot out to 300 yards with run-of-the-mill .223 / 5.56, .223 Wylde and Sharps .25-45. As a result, I was comfortable taking it to initial tasking on the CBC Industries CY6 6.5 Grendel Rifle.
For mid- to long-range shooting, I used a Sightmark Pinnacle 5-30×50 TMD first-focal-plane. I've used the Pinnacle extensively. The glass in this optic is exquisite, as are illuminated mil-dash reticle, tactile .1 mil windage and elevation adjustments and perfect tracking. The zero-stop is also solid and easy to set. After a 100m sight-in, I ran the CY6 and Pinnacle combo from 300 yards clear out to 750 and achieved an impressive sub-MOA grouping on an 8-in. steel gong.
For thermal, as a precursor to an upcoming hog hunt hunt at Three Curl Outfitters in Waxahachie, Texas with a good friend and world-class UFC fighter, James "The Texecutioner" Vick, I mounted and sighted-in a Pulsar Trail XP50 Thermal Riflescope. The Pulsar Trail XP50 Thermal Riflescope detects an adult-size heat signature at 2,000 yards, features a 640 core and delivers imaging on a sharp 640×480 AMOLED display. The simple user-interface, detection range, and display made sighting in at 100 meters easy. More on sighting in with the Trail in a moment.
Let's be honest, when it comes to shooting, attributes like comfort, reliability and repeatability reign supreme. Even shooting match-grade precision rifles can be problematic if the shooter can't get comfortable! I was able to get exceedingly comfortable on the CY6, leaving the rifle's performance up to its ability as a precision instrument… and my skill set using little more than years of trigger time, a bipod and squeeze bag.
The single-stage trigger was crisp and broke like ice. While I prefer a lighter trigger on precision rifles, somewhere in the neighborhood of two to three pounds offered a great four-pound trade-off; light enough for great accuracy and stiff enough for the kind of tactile control I want when hog hunting, especially with hunting buddies nearby.
Even with the heavier trigger, the break was crisp and had minimal effect on accuracy. At 100 meters my personal best five-shot grouping with the CY6 measured .4375-in., a hair under ½-MOA. To say I was surprised was an understatement, however, CBC Industries was not; I quickly discovered the company first cut its teeth on barrel manufacturing. They know how to do it… and do it exceptionally well! After talking with them, my shooting experience made sense. She was definitely a shooter at 100 meters and demonstrated the same out to 300.
After shooting at close– to mid-range, I mounted the Pinnacle optic and went long, beyond the 500-meter targets to a newly developed 750-yard line (yes, I said yard). At 750 yards, I hammered an 8-in. gong repeatedly. The group opened up a little but to hammer out MOA (or smaller) at 750-yards with a direct-impingement gas gun speaks volumes for the CY6 and the ammo I had on hand, Hornady's 123-gr 6.5 Grendel SST ammunition (not ELD Match).
If you're into numbers, here they are. Using 123-gr Hornady SST ammo, my Caldwell Ballistic Precision G2 chrono reported muzzle velocity average of 2505 fps out of the 18-in. barrel and compensator, actually pegging 2505 twice out of 15 shots. Muzzle energy averaged 1712 ft.-lbs.
While the accuracy, velocity was pleasantly surprising, the most concerning was the compensator CBC chose to thread on the end of the CY6's barrel. Upon examination, my first impression would be that the compensator would actually increase recoil. The lack of ports on top to minimize barrel lift also had me scratching my head. What were these guys thinking?
I am, sometimes, a skeptic but never a scientist; in fact, the science in many things often flies at extreme altitudes far above my brain housing group. So, here's my two cents on shooting with this questionable compensator. In a word, IT ROCKS! While all ports are situated in front, it absolutely seemed to mitigate recoil. Again, don't ask me how. I still can't wrap my mind around it. As far as barrel lift, it was as minimal as I've ever experienced. With light rifles, the ability to maintain a sight-picture through the shot has eluded me. The rifle jumps a bit and I'm usually back on just after the impact.
Shooting the CY6 was my first experience, shooting larger than .223 on a shorter barrel while maintaining my field-of-view and sight picture enough to watch impact. When I sighted in the Pulsar Trail Thermal Riflescope at 100 meters, not only did I watch ice cubes explode, after 10 shots, center-mass had been opened to a single sub 1-in. hole – incredibly impressive for shooting with a thermal display rather than traditional optics! Since then, I've also shot in moisture and watched the bullet's vapor trail. The minimal barrel lift was absolutely shocking. I am now a huge fan!
CBC CY6 6.5 Grendel – Hard Hitting on the Hunt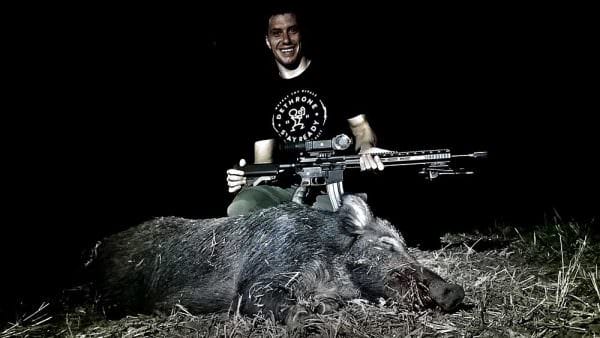 Three Curl Outfitters' Brett Jepsen, Charles Spiegel and Casey Cochran had us on pigs quickly and the CY6's first night in the fields was impressive. I handed the CY6's reins over to the Texecutioner. At 12-1-0 (8-1-0 in the UFC after knocking out "Irish Joe" Duffy), the guy knows how to hit hard but he'd did not get where he's at by abusing his body. A concern for Vick who was protecting his shoulder with UFC 217 looming; (he had the fight at Madison Square Gardens on November 4th 2017, that he won!.) I let him take a test shot with the CY6 and the Pulsar Trail XP50 before hitting the first field.
The expression on his face said enough but he followed it with, "This thing is badass… the coolest thing ever!"
I didn't ask whether he was talking about the thermal or the rifle, in my mind, it was both. He later proved me right with a heck of a boar. Now the CBC Industries CY6 6.5 Grendel Rifle has some major fans that know a thing or two about hitting hard, fast and accurately! Unfortunately, Vick is now sharing the Texecutioner spotlight with a major AR contender!
About Kevin Reese:
Kevin is an award-winning outdoor writer, photographer, videographer, speaker, host of Global Outfitters TV Show's GO Tips and a Marine Corps veteran. He owns and administers www.mainbeammedia.com and Main Beam Blog at blog.mainbeammedia.com. The Main Beam Blog offers great articles, press releases, outdoor industry news and reviews.