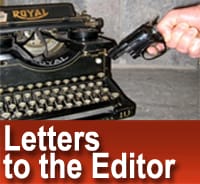 USA –  -(Ammoland.com)- To the editor:
Women have posted photos of themselves at 14 to highlight the age of Roy Moore's youngest alleged victim.
Is the Monica Lewinsky photo included?
There was a TWENTY-SEVEN (27) year difference between Lewinsky and then-Predator-In-Chief Bill Clinton when he sexually violated her in the White House Oval Office. The stained blue dress. The Cuban cigar. Then he lied to us Americans on prime time TV. He was disbarred. Clinton was impeached. The mainstream fake media spin, "Oh that's just Bubba, he's a "junkyard dog."
"If you drag a hundred dollar bill through a trailer park, you never know what you'll find."
50 Alabama Pastors Support Judge Moore.
A female member of Congress plans to name at least two male pervert members of Congress. I can't wait for this stink-bomb to land in the hypocrite's laps.
From the Socialist Democrat People's Republic of Massachusetts, where we don't have a "Senator Moore" fighting for us. Instead, we have a Democrat apologist and a fake Indian obstructionist.
"I'm with him."
Michael Velsmid Nantucket, MA