USA – -(Ammoland.com)- "'Racist' gun range billboards in South Jersey should come down, activists say," a Tuesday Philly.com headline reads. "The range's owner disagrees."
The billboard for the South Jersey Shooting Club shows the silhouette of a soldier in a kneeling  in an unsupported firing position, a basic marksmanship technique. Next to the soldier is the caption, "The only time we take a knee." That political position is supported by a lot of Americans, who have little sympathy or use for highly-rewarded athletes abusing their positions of privilege to express their political and social views.
Quotation marks in the headline notwithstanding, the intended point has been made. It's not OK to disagree with "progressives" and if you do, you're an extremist and a hater, especially if you make your views known. Only they're allowed to do that.
Not too many people thought of feigning indignation and then outrage until self-described "community organizer" and "Madam Secretary of NAACP of Camden County" MoNeke Ragsdale posted a photo of the billboard on her Twitter feed Monday with the notation:
"Please call! This billboard on Rt. 73 in Voorhees. Tell them this billboard is racist. Taking a knee is a protest to say NO to police brutality. The women of SJWPC are taking a knee to support black and brown people. Take it down!…"
Right. Disagreement is racist. Nothing the club could say would change any pre-closed minds. And curiously, if the intent is to protest "police brutality," the collectivists never seem to see the disconnect with one of their other key platforms, making sure that police are the "Only Ones" with guns.
But what's this "SJWPC" she speaks for?
That would be "South Jersey Women for Progressive Change, a group that formed after the 2016 presidential election to empower women," at least per the unquestioning Phily.com "reporter." Those who do question might wonder just who is empowering whom.
They keep who's behind them close to the vest, registering their website via a proxy. Still, they give hints on being able to know them by the company they keep, specifically through their recruitment of like "minds" via "Resistance Summer Community Cookouts," via a MoveOn.org Civic Action website. And while they in turn claim to be "a 501(c)(4) organization which primarily focuses on nonpartisan education" (as opposed to their political action arm), if you look at the fine print over at the bottom of the ResistSummer.com website, you'll see:
"Paid for by the Democratic National Committee…"
As for what the #TakeAKnee protest represents, why not go straight to the source, and revisit what the guy who started it all, GQ Magazine's "Citizen of the Year" Colin Kaepernick had to say about his actions at the time:
"I am not going to stand up to show pride in a flag for a country that oppresses black people and people of color."
That's not his only agenda. Per The Washington Times:
"The Colin Kaepernick Foundation donated in April $25,000 to Assata's Daughters, a Chicago 'direct action' resistance organization honoring Assata Shakur, who escaped prison and fled to Cuba after being found guilty in the 1973 murder of Officer Werner Foerster."
He's disrespecting the flag, disrespecting the country, and laying a damnable charge that some of us would argue is instead reflective of destructive collectivist policies. We would argue Democrat urban rule encourages social and economic marginalization and generational dependency in  order to secure a voting demographic  they can take for granted, and that's the true discrimination and oppression.
The other big lie is that the NFL protests are about "free speech."  Nonsense. When you're at a company event on company time, you have no right to hijack things to impose your political views on others.  Try it where you work if you don't believe me. And if you really want to see the league have no reservations about putting the squeeze on player rights, check out what's prohibited in its "Standard of Conduct" on guns:
"Possession of a gun or other weapon in any workplace setting, including but not limited to stadiums, team facilities, training camp, locker rooms, team planes, buses, parking lots, etc., or unlawful possession of a weapon outside of the workplace."
Bottom line, nothing the South Jersey Shooting Club does will satisfy leftists and the people complaining aren't going to join the club anyway. So why let them bully the club into taking down the sign?
I left a voicemail message with the club manager to find out who owns the billboard and if pressure is likely to sway them.  No response at the time of this writing, but this article will be updated if I get a call back.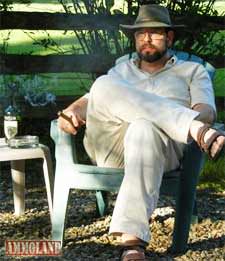 About David Codrea:
David Codrea is the winner of multiple journalist awards for investigating / defending the RKBA and a long-time gun owner rights advocate who defiantly challenges the folly of citizen disarmament.
In addition to being a field editor/columnist at GUNS Magazine and associate editor for Oath Keepers, he blogs at "The War on Guns: Notes from the Resistance," and posts on Twitter: @dcodrea and Facebook.