USA – -(Ammoland.com)- "Sylvester Stallone was accused of sexual assault in a police report filed in Santa Monica," The Hollywood Reporter confirmed Thursday. "The alleged victim filed a report last month … The incident occurred in the 1990s. No further information was available."
The BBC goes a step further in its description by flat-out calling it "rape."
Whatever it's called, Stallone adamantly denies it. Besides, the statute of limitations has reportedly run out, and what a DA would be able to do with any "evidence" uncovered now remains unclear.
So why should we believe a decades-old accusation, aside from "progressive" insistence via the #MeToo movement that the default position is a due process-free public lynching?
In Stallone's case, there have been past allegations by a 16-year-old girl that were contemporaneously reported to the police as "vouched" for by a retired detective, and that allegedly resulted in a threat to "beat her head in" if she told anyone. And there was another corroborated 2008 report in the New York Post where Stallone made jest of violence against women:
"The talk quickly turned to women, with Sly denying Janice Dickinson's claims he injected her with steroids. 'The only thing I injected her with was my fist,' he joked."
And then there was the "payout deal" with his half-sister and Stallone's "history of denying women's claims of sexual abuse" that included a 2001 lawsuit alleging "Stallone 'forcibly pinned"' [a woman] against a wall, tore her clothes, pushed her onto a sofa and 'attempted to forcibly have sexual intercourse' with her."
Powerful men have been brought down by a lot less, no? Stallone's Hollywood production partner in so many of his film successes, Harvey Weinstein, will most likely "never work in this town again."
What does any of this have to do with guns, which is presumably why readers come to AmmoLand?
Women who can defend themselves are less likely to be raped, and alleged abuser Stallone, like Weinstein, is a Hollywood gun hypocrite.
In the archived NY Post link above, note the story starts out saying "Sylvester Stallone had an armed guard deliver an advance screener of the new 'Rambo' to Howard Stern." That would be in New York City, where only the connected and their functionaries are deemed worthy of "permits." And note a bodyguard (who was shot dead by police a few years later) was reported to have been part of the alleged threesome with the 16-year-old.
Stallone is also reported to have a concealed carry permit of his own, in that part of "may issue" California that generally imposes "may not" on the unconnected. Yet he is on record from years past supporting the Brady Center, an "assault weapon ban" and a ban on handguns that goes the extra mile:
Access Hollywood then showed a clip from a comment he made in London a few weeks ago: "Until America, door to door, takes every handgun, this is what you're gonna have. It's pathetic. It really is pathetic. It's sad. We're living in the Dark Ages over there."

Why aren't #MeToo advocates demanding to remove this statue? (Philadelphia — visitphilly.com/Facebook)

"Over there"? Yes, the man who wants to control what Americans have in their homes is now living in England. Back to Stallone's interview with the show, he demanded that the 2nd amendment be abandoned: "It has to be stopped, and someone really has to go on the line, a certain dauntless political figure, and say, 'It's ending, it's over, all bets are off. It's not 200 years ago, we don't need this anymore, and the rest of the world doesn't have it. Why should we?"
Despite all that, those who believe in due process (unlike those who call for door-to-door gun confiscation) demand it for all. "Progressives," however, aren't so picky, and are more than happy to see people's lives and careers destroyed based on little more than innuendo.
So while I'm not calling for penalties without conclusive proof, I am pointing out it's inconsistent for #MeToo advocates not to. If Stallone still has an elite concealed carry permit that would be denied to his accusers, why? Is that something his fellow gun-grabbers would deem "common sense gun safety"?
And with all the "progressive" furor over removing so-called "offensive" monuments, does the Democrat-controlled City of Philadelphia believe it's appropriate to continue honoring Stallone by maintaining the Rocky Statue at the Museum of Art steps?
---
About David Codrea: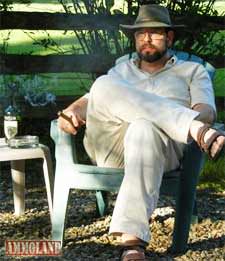 David Codrea is the winner of multiple journalist awards for investigating / defending the RKBA and a long-time gun owner rights advocate who defiantly challenges the folly of citizen disarmament.
In addition to being a field editor/columnist at GUNS Magazine and associate editor for Oath Keepers, he blogs at "The War on Guns: Notes from the Resistance," and posts on Twitter: @dcodrea and Facebook.