Every now and then a new firearm comes around that makes us wax nostalgic for a historical period in time or for a movie. Cimarron Firearms has introduced a new revolver that reminds us of a song:
To the town of Agua Fria rode a stranger one fine day
Hardly spoke to folks around him, didn't have too much to say,
No one dared to ask his business, no one dared to make a slip
The stranger there among them had a big iron on his hip,
Big iron on his hip
U.S.A. –-(Ammoland.com)- The Cimarron Bad Boy evokes the 1960 western song, Big Iron, by Marty Robbins. Built on the huge grip frame of a Colt 1860 Army model, with an 8″ octagonal barrel, adjustable sights and chambered in 44 Remington Magnum, this is a single action revolver to behold.
The Good
Opening the box of the Cimarron Bad Boy reveals what looks to be another Colt Single Action Army (SAA) clone. That is until you pick it up and realize the grip frame is a bit bigger than your typical SAA. The octagonal barrel looks like something from the 1850s as opposed to the latter part of the 19th century and the one-piece walnut stock fills your hand like a revolver should.
The rear sight is fully adjustable for windage and elevation and more in the style of a Colt New Frontier than a Ruger Black Hawk or Super Black Hawk. They have a nice clean appearance to them as they are set into the frame perfectly.
While we might have preferred a case-hardened finish, the blued steel is far more practical, especially on a revolver that will see a lot of use.
Shooting the Cimarron Bad Boy is a joy. The long barrel and the nearly 3-pound weight of the revolver keep the recoil down. Much more accurate than any of our Colt SAAs, this is like shooting a match grade revolver. The 1860 grip frame allows it to roll back in your hand under recoil much more comfortably than the smaller SAA frame if you shoot duelist or bullseye style (one hand holding the revolver).
We ran a variety of ammunition through the Bad Boy from 44 Specials to full house Magnum rounds. Group sizes were all around 1″ at 25 yards for 5 shot strings.
The Bad Boy is built by Uberti for Cimarron according to Cimarron's specifications. It reminded us a little bit of Uberti's older "Callahan Model", but again, with Cimarron, the revolver was made more elegant and pleasing to the eye.
Plus that octagonal barrel makes a statement! That is perhaps what really reminded us of Big Iron, Robbins supposedly saw a revolver in a Hollywood gun shop very close to this description fitted with a 9-inch barrel made from a Marlin rifle. We would think such a barrel would be octagonal. Yet, that piece is lost to history.
The Bad
One thing that Cimarron did not incorporate was a transfer bar system for the hammer. This may scare some shooters but will please the rest. For those not familiar with the term, a transfer bar safety is a slim piece of metal that serves as a block for the hammer. Original SAA revolvers lacked this feature and could only be carried safely with five rounds instead of six as a dropped or struck revolver could easily fire a round by the firing pin striking the primer. Many modern replica SAAs incorporate this design.
Purists loathe them, but most shooters have become more accepting of them as time goes by.
When loading a revolver without a transfer bar, the proper method is to open the loading gate, load a single round, rotate the cylinder to the next one that is empty, skip it and load the next four. When you come back to a live round, you can lower the hammer safely on an empty chamber.
Personally, we can live without the transfer bar. However, it is something a prospective buyer should be aware of.
For a holster, the only thing close to fitting the Bad Boy was a Walker/Dragoon holster we had on hand from Hunter Leather. It was a tight fit and not the quickest rig from which to draw, but unless you go the custom route for one of these it's the only one we found that kind of works.
The Reality
Colt never offered the SAA or the New Frontier in 44 Magnum. the frames would simply not handle the abuse of such a powerful round. For fans of the traditional SAA and 44 Magnum, the Bad Boy may be the perfect blend of those two concepts.
Cimarron set out to close the bridge between the old west and the new and it looks like they may have done it. It seems every change we thought about for this six-gun would not have worked. Chambered in 45 Colt (even for hot loads) would have been just another colt Clone. Building it in 41 Magnum would have appealed to me and 10 of my friends, three who might actually think about buying one. Offered in 454 Casull or 460 S&W would result in a revolver almost twice the size and three times the price.
No, Cimarron made the right call by loading this guy in 44 Magnum. It is still a powerhouse and an iconic round in its own right. They know their audience, too, as this is not a revolver intended for Cowboy Action Shooting, at least in the general categories. This is intended for a true lover of single action revolvers. The Bad Boy would make a great hunting handgun or sidearm for a hunter as well as a serious target revolver and is more than capable of acting in a self-defense role if needed.
Spec Box
Caliber: 44 Remington Magnum
Style:     Model P
Frame: Pre-War SAA style
Finish    Standard Blue
Grip:      One-piece Walnut
Barrel: 8″ octagonal
Overall Length: 13 3/4″
Weight: 2.75 lbs
MSRP: $687.70
---
About Mike Searson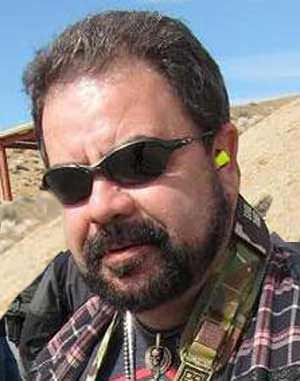 Mike Searson's career as a shooter began as a Marine Rifleman at age 17. He has worked in the firearms industry his entire adult life as a Gunsmith, Ballistician, Consultant, Salesman, Author and was first certified to teach firearms safety in 1989.
Mike has written over 2000 articles for a number of magazines, websites and newsletters including Blade, RECOIL, OFF-GRID, Tactical Officer, SWAT, Tactical World, Gun Digest, Examiner.com and the US Concealed Carry Association as well as AmmoLand Shooting Sports News.